Introducing The BMW i8
MORE THAN INNOVATION.
REVOLUTION.
If you're researching new 2019 electric cars and weighing your options, come speak with the experts at South Bay BMW to get all the BMW electric vehicle information you need. Whether you want to finance or lease a new 2019 BMW i8, you'll find all the options you need at our BMW dealership near Fullerton, CA. Schedule a test-drive at South Bay BMW to experience BMW i8 electric vehicle technology in person, then sit down with our BMW finance team to get the keys!
Benefits of Buying a BMW i8 Electric Vehicle
Get behind the wheel of the sporty electric BMW i8 plug-in hybrid to upgrade your time on the roads near our BMW dealership in Southern California. Buying a new 2019 BMW i8 is a great way to reduce your carbon footprint while still being able to drive the powerful luxury vehicle you've always dreamed of. Another perk is that you can take advantage of electric vehicle charging stations rather than having to stop at the gas pump. Plus, you'll be able to use Electric Car Parking spots at participating locations nationwide. Standard and optional 2019 BMW i8 features can include:
AC Synchronous Electric Motor
1.5-liter BMW TwinPower Turbo 3-cylinder
11.6 kWh lithium-ion battery
369 Total Horsepower
High-performance hybrid drive system
0-to-60 mph in just 4.2 seconds
Carbon Fiber Interior Trim
E-Copper Leather Exclusive with Cloth accentuator
BMW Navigation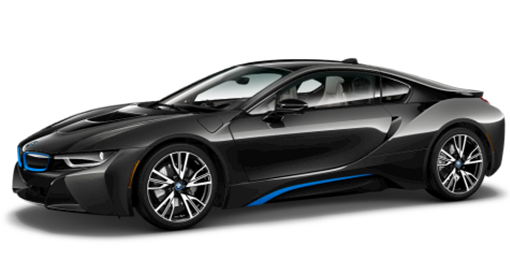 Qualify to
Receive up to
$7,500
Federal Tax Credit
Electric Vehicle Federal Tax Credit and State Incentives
When you own a new BMW electric car, you can also take advantage of Federal Tax Credit and State Incentives. You'll gain California HOV Lane Access when you drive the BMW i8, even if riding by yourself, as these vehicles meet California's super ultra-low emission vehicle (SULEV) standards for exhaust emissions as well as the federal inherently low-emission vehicle (ILEV) evaporative emission standards. Depending on the new BMW electric car or BMW plug-in hybrid car you own, you'll also be eligible to receive a wide range of State Tax Incentives in the state of California. Some of these incentives can include Electric Vehicle Supply Equipment and Charging Incentives, Plug-In Electric Vehicle Rebates and more. Contact South Bay BMW to learn more about EV rebates in California!
2019 Electric Cars for Sale at South Bay BMW
No matter if you're at home or on the go, you'll have no trouble finding a way to charge your electric car. Get a Level 2 charger installed at home and you can power up in as little as three hours, or find the electric vehicle charging station closest to you. If you want to learn more about how to chard a BMW i8, contact South Bay BMW to speak with a BMW product specialist.
Where are Electric Vehicle Charging Stations near Fullerton, CA?
If you're considering buying a new BMW i8 plug-in hybrid car or already own an electric car, then you'll be happy to hear there is a long list of electric vehicle charging stations in Los Angeles County. You can use PlugShare as your guide to find local electric car charging stations, or you can track down these options in your neighborhood:
ChargePoint Charging Station
EVgo Charging Station
Volta Charging Station
Contact Us