THE BMW i3

CHARGE UP YOUR ROUTINE.
Go green and buy or lease a new 2019 BMW electric vehicle today at South Bay BMW. The team at our BMW dealership near Los Angeles, CA, has all the information you need on electric cars in Southern California, whether you're looking to purchase new BMW i3 or want to find a BMW i3 charging station near you. Come test-drive a new BMW i3 or all-new BMW i3s electric car and ask our staff about how you can lease a new BMW electric vehicle you love. Contact South Bay BMW to finance an electric vehicle today!
Advantages of Buying a BMW i3 in Southern California
Get the keys to a stunning new BMW i3 model or hop behind the wheel of a luxurious new BMW i3s sporty electric car to upgrade your drives around Downtown LA and beyond. No matter if you buy a BMW i3 or lease a new BMW i3s electric car, you'll receive a wide range of perks in addition to the first-class amenities inside the cabin. You can take advantage of electric vehicle charging stations rather than having to stop at the gas pump, plus you can use Electric Car Parking spots at participating locations nationwide. Standard and available BMW i3 features include:
AC Synchronous Electric Motor
Brake Energy Recuperation system
DC Fast charging capability
Comfort Access keyless entry with multi-function remote control
Slide-through interior floor design
HD Radio™
Park Distance Control, rear
BMW Assist eCall™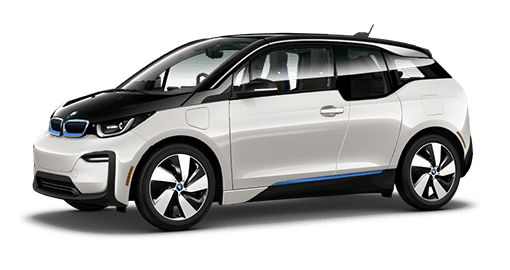 Qualify to
Receive up to
$7,500
Federal Tax Credit
Electric Vehicle Federal Tax Credit and State Incentives in California
When you buy or lease a new 2019 BMW electric car, you can also enjoy both federal and state tax incentives. In some cases, you can receive up to $7,500 in Federal Tax Credit when financing a new 2018 BMW i3. You'll also gain California HOV Lane Access when you drive the BMW i3, even if driving by yourself, as these vehicles meet California's super ultra-low emission vehicle (SULEV) standards for exhaust emissions as well as the federal inherently low-emission vehicle (ILEV) evaporative emission standards. Depending on the new BMW electric vehicle or BMW plug-in hybrid car you drive, you'll also be eligible to receive a wide range of State Tax Incentives in California. Some of these incentives include Electric Vehicle Supply Equipment and Charging Incentives, Plug-In Electric Vehicle Rebates and more. Contact South Bay BMW to learn more about electric car rebates in California!
Buy or Lease a New 2019 Electric Car
Whether you're at home or on the go, you'll have no problem finding a way to charge your electric car. Get a Level 2 charger installed at home and you can recharge your EV in as little as three hours, or find the electric vehicle charging station nearest you. If you're concerned about electric car driving ranges, rest easy knowing these BMW models will impress with their ranges. Finance a new BMW i3 and you'll be rewarded with a driving range of up to 114 miles on one full charge. Buy the BMW i3 with Range Extender and you'll get a 180-mile driving range on one full charge.
How to Find an Electric Car Charging Station near Los Angeles, CA
Are you in the market for a new BMW i3 EV and want to check on local electric car charging stations? Do you already own a BMW electric car and want to find the closest electric vehicle charging station in Los Angeles, CA? You can use PlugShare as your guide to find nearby EV charging stations, or you can track down these options in your neighborhood:
ChargePoint Charging Station
Volta Charging Station
EVgo Charging Station
Contact Us