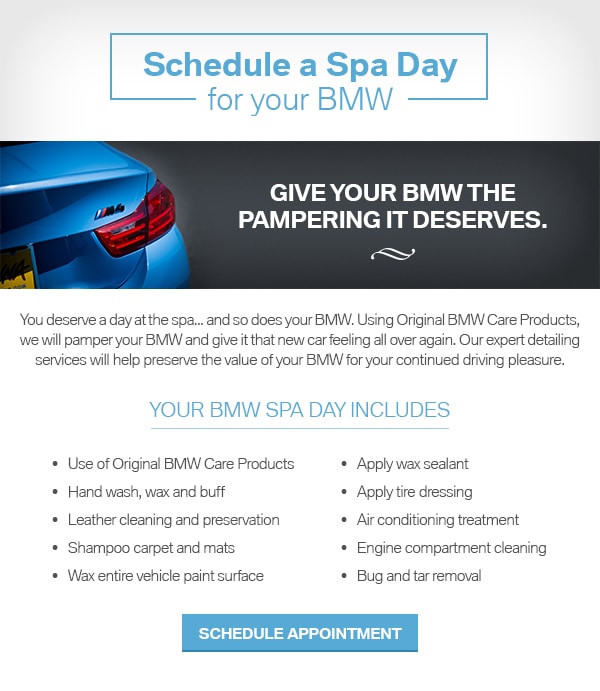 It's important to take proper care of your BMW vehicle- not only on the inside but also the outside of it. At South Bay BMW, our BMW Spa services can give your BMW a full cleaning and detailing service that'll have it looking, feeling, and smelling like you just drove it off the lot. All of this without putting a dent in your wallet. Whether you want to bring back that new car smell, or you want it to shine and gleam like the first day you got it, we'll get the job done quickly and effectively. Some of our BMW Spa services include:
Why You Should Wax Your Car Regularly
Washing and waxing your car doesn't just make your vehicle look shiny. It's also important for your vehicle's paint job and exterior health. Waxing your car helps protect its paint from scratches and UV exposure. If you don't wax your vehicle, your car's paint job will take more punishment from the sun and things like road salt, rain, dirt, and more. All of these combine to degrade your vehicle's paint until it begins to chip or rust- which no driver wants. Plus, all that protection will help the resale value of your car if you plan to sell it or move on at some point in the future.
If it's been a while since your BMW has had a fresh wash and wax, bring it down to South Bay BMW in Torrance, California, and we'll take care of it until it's as good as new. If you have any questions about our BMW spa, or anything else about us, our inventory, and the services provided, give us a call. Or, if you'd like, you can visit us at 18800 Hawthorne Blvd in Torrance, CA.