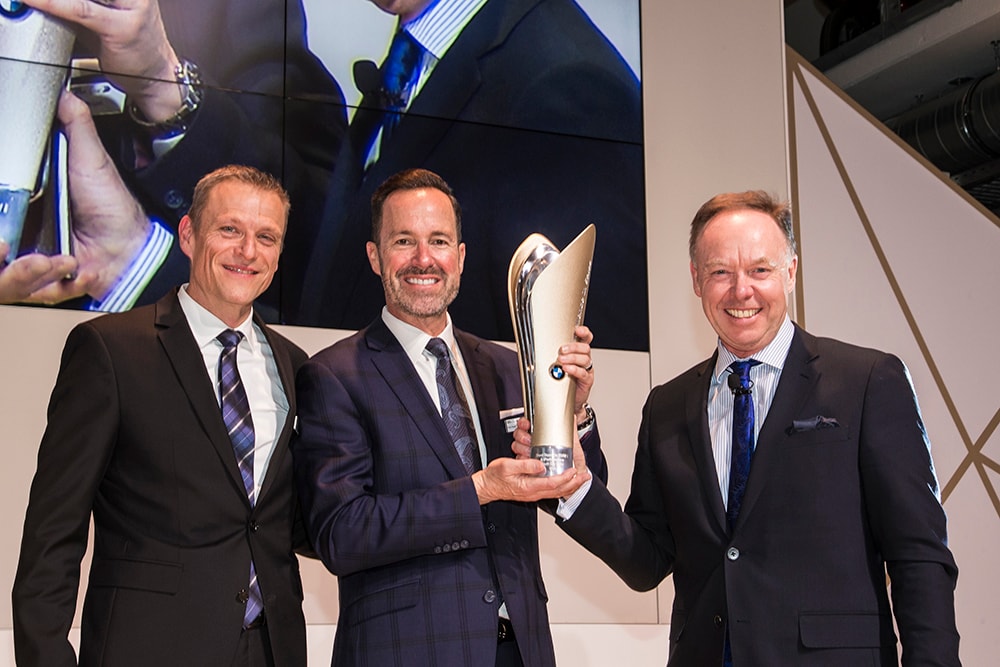 Bob Hogan, VP South Bay BMW (center), receiving the trophy from Ian
Robertson (right) for the global winner " Best Dealer in BMW i & iPerformance ".



South Bay BMW Wins Excellence in Sales Award.
Torrance, California, April 3, 2017 - BMW honored the 36 best dealers worldwide during the Excellence in Sales awards ceremony in Munich. The awards were presented by the patron of the program, Ian Robertson, BMW AG Management Board member for Sales and Brand BMW, Aftersales BMW Group.
The Excellence in Sales winners were awarded in six different categories. South Bay BMW was the only dealer worldwide selected in 2 categories: "Best BMW 7 Series Dealer" and "Best Dealer in BMW i & iPerformance" - and the global winner of the latter. South Bay BMW has earned this success by demonstrating consistently superior performance, with a combination of sales leadership and customer satisfaction that placed them at the very top among BMW dealers worldwide. Receiving this prestigious honor has cemented their reputation as one of the top-performing BMW Centers in the country.
An impressive jury including Ian Robertson, his first-line management team, and representatives from BMW Group Corporate Quality decided on the award winners. They had a wealth of choice: 3,000 entries were received from 80 different countries.
"The international dealer body is one of the most important elements in the BMW Group's ongoing success," commented Ian Robertson. "By inviting these outstanding dealers to Munich, we are saying thank you to our partners who helped us achieve new record results in 2016."
South Bay BMW is the #1 BMW Dealership in Los Angeles County. As one of the largest dealerships in the Western Region, South Bay BMW features the ultimate selection of new and pre-owned vehicles, competitive pricing, the largest service center in Los Angeles County, an exclusive VIP program, and some of the highest customer satisfaction ratings in the nation. For more information, please visit www.SouthBayBMW.com.