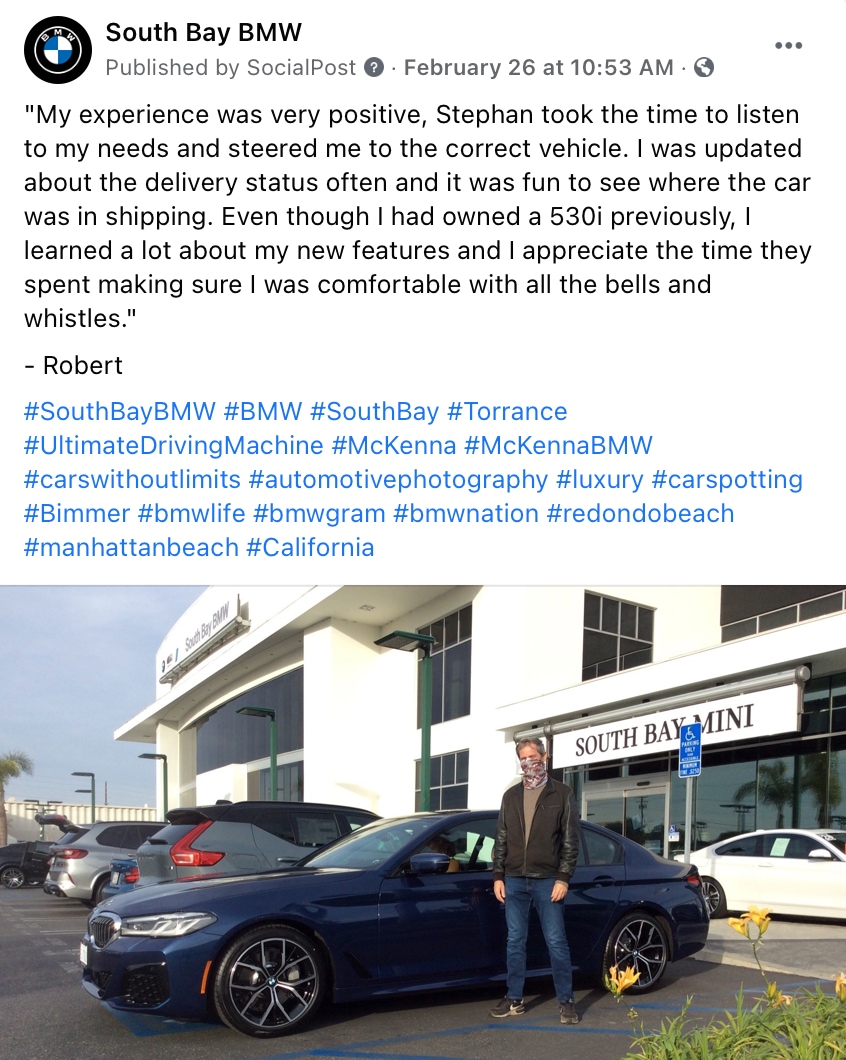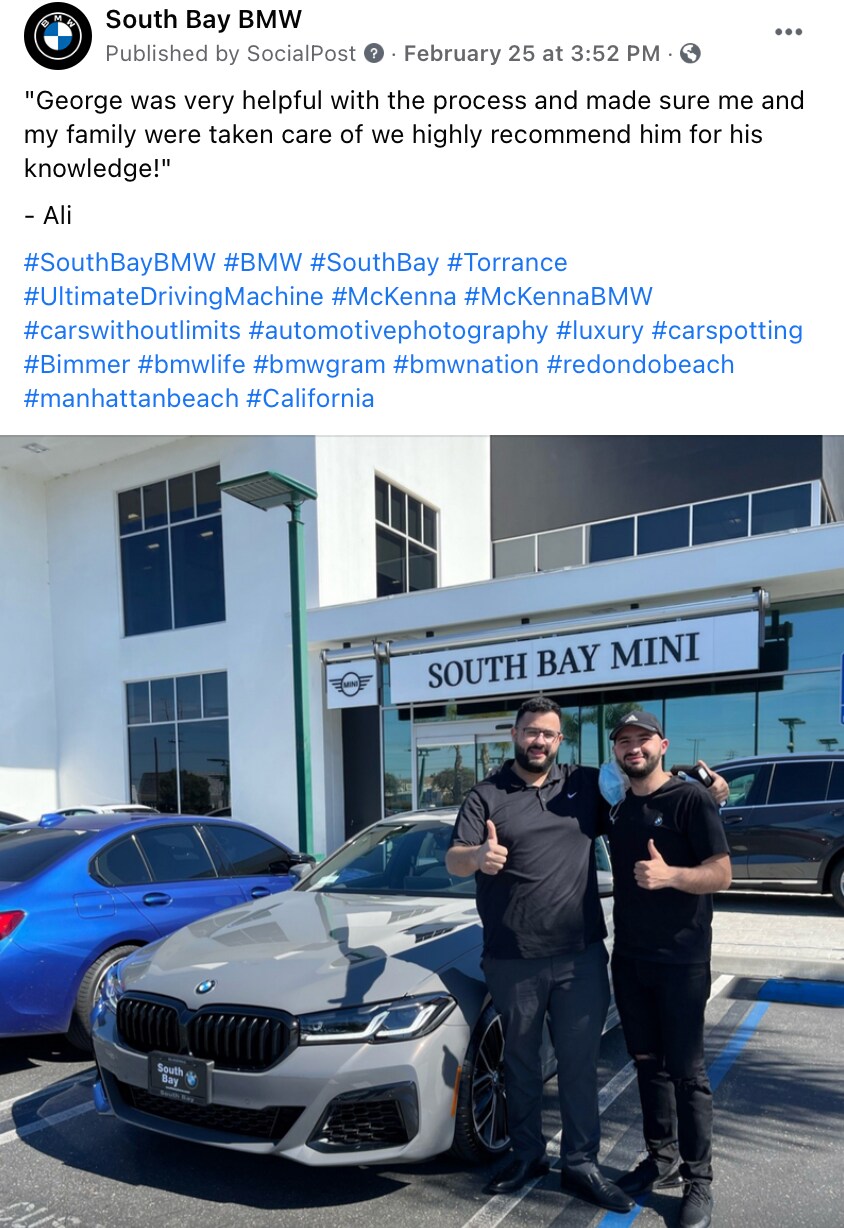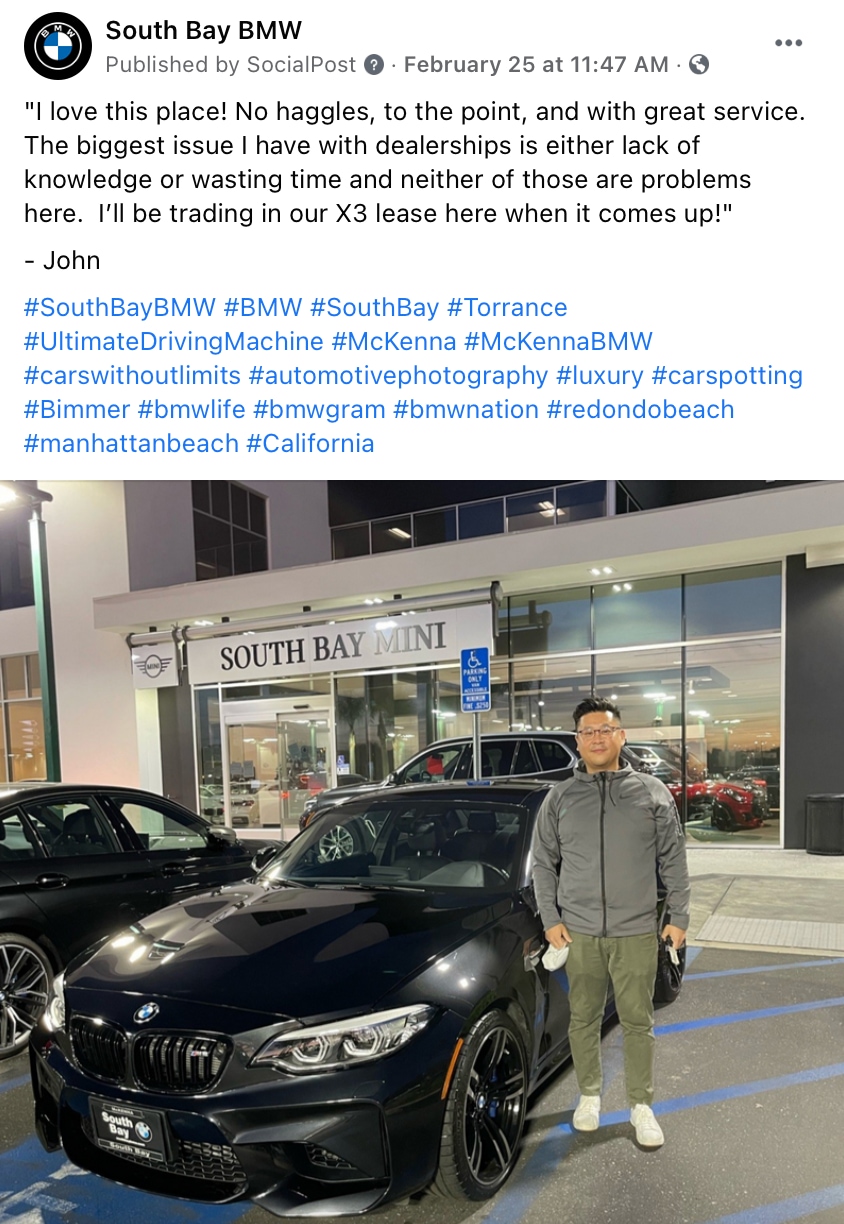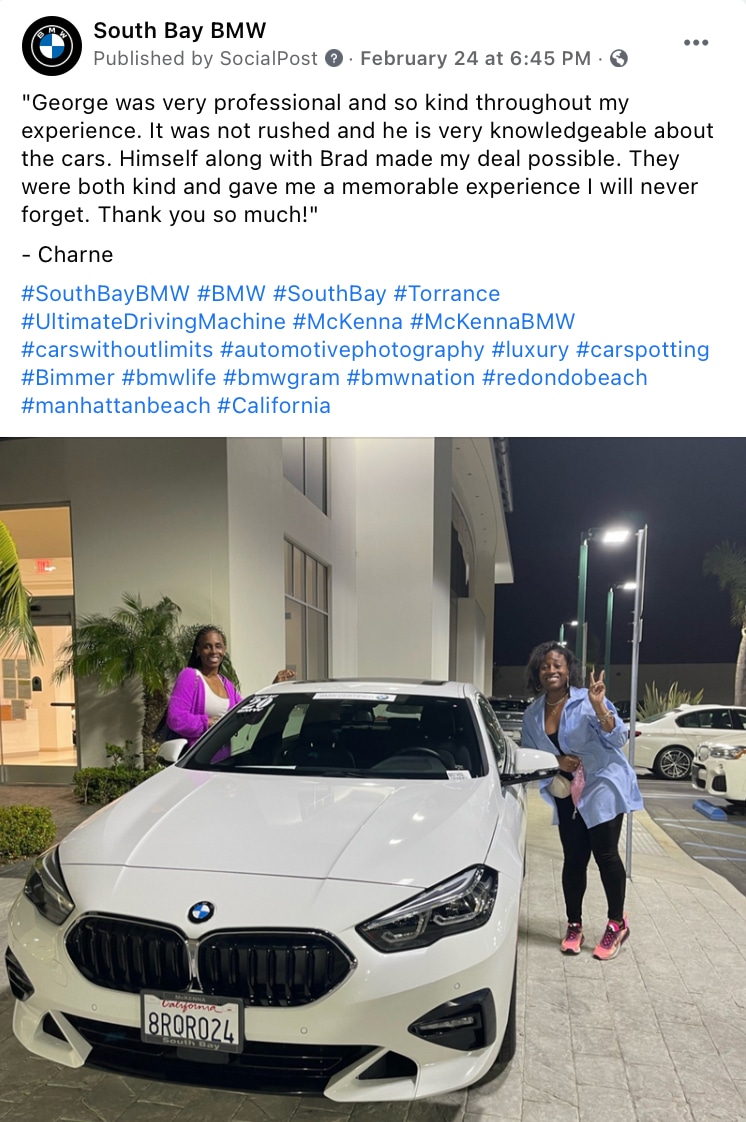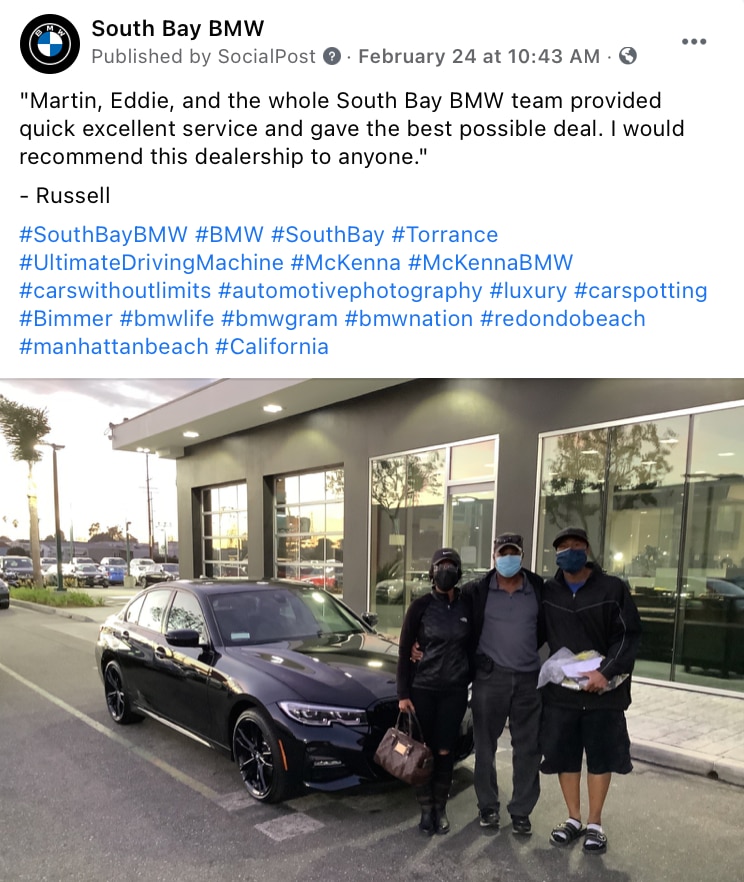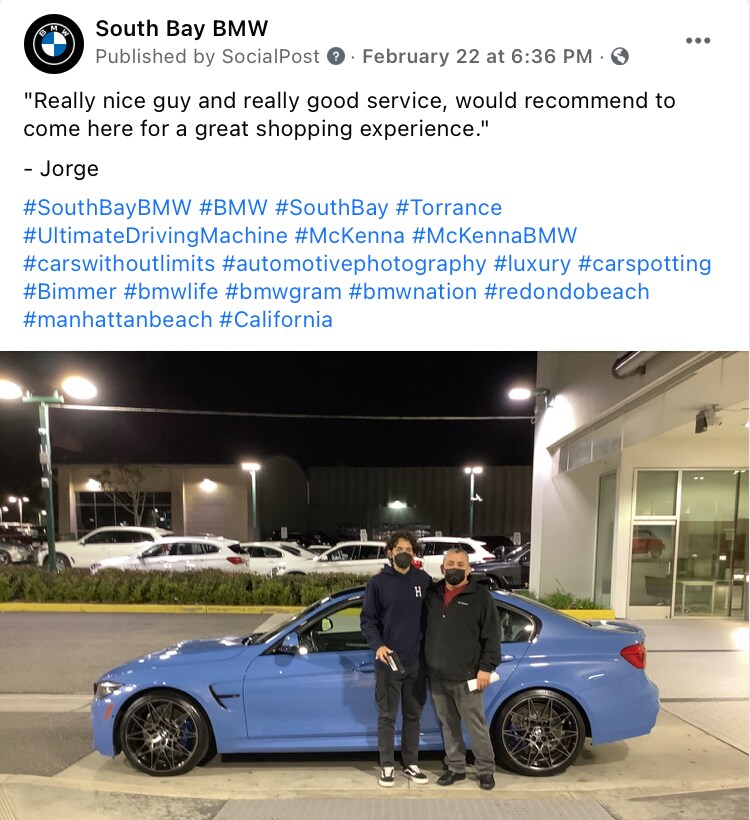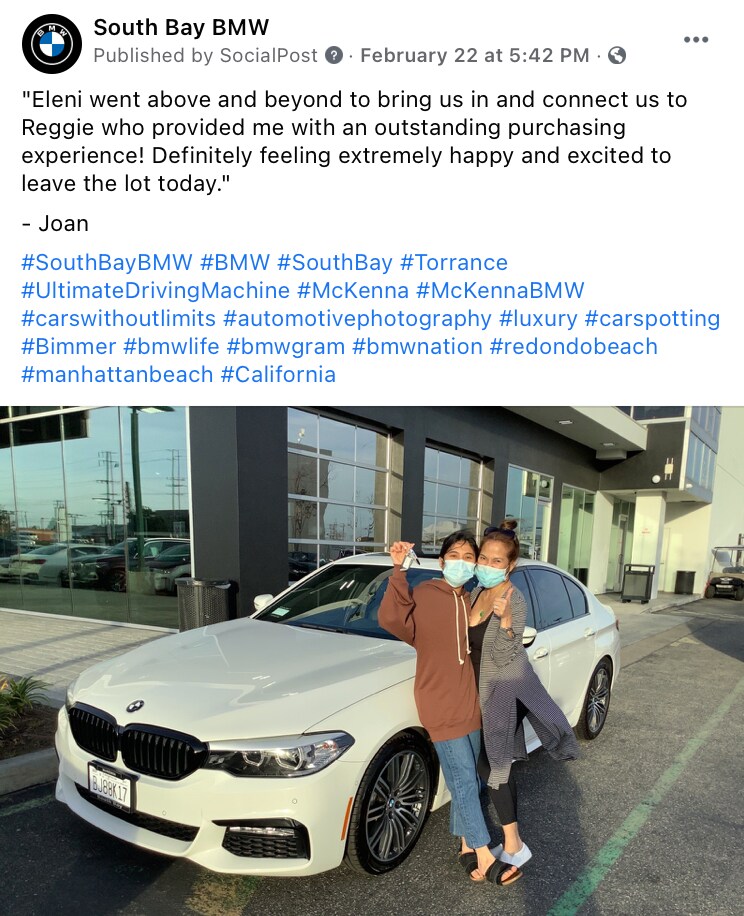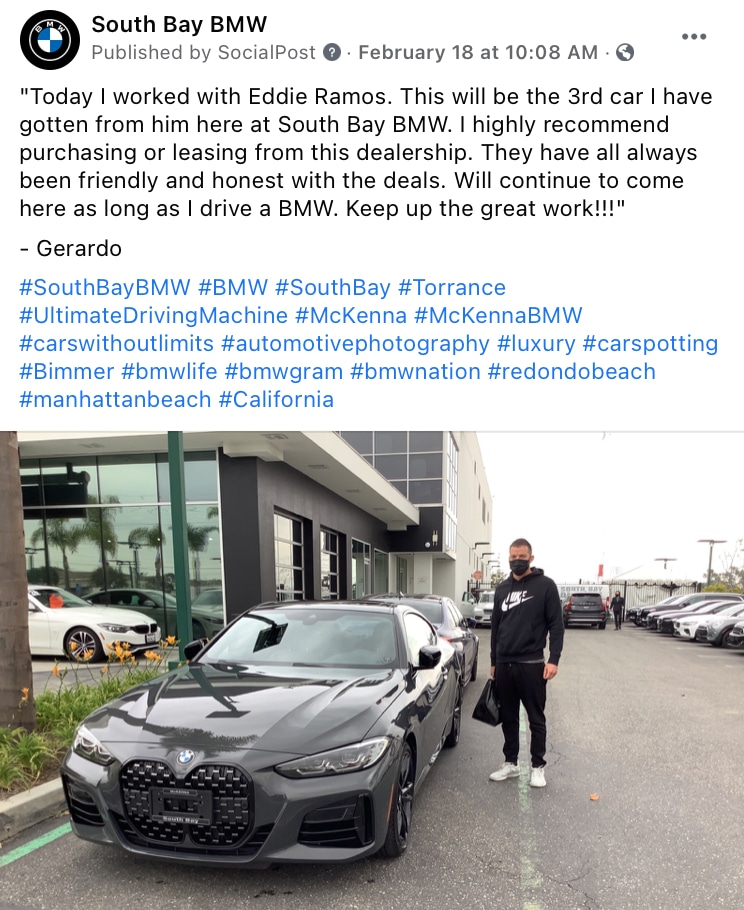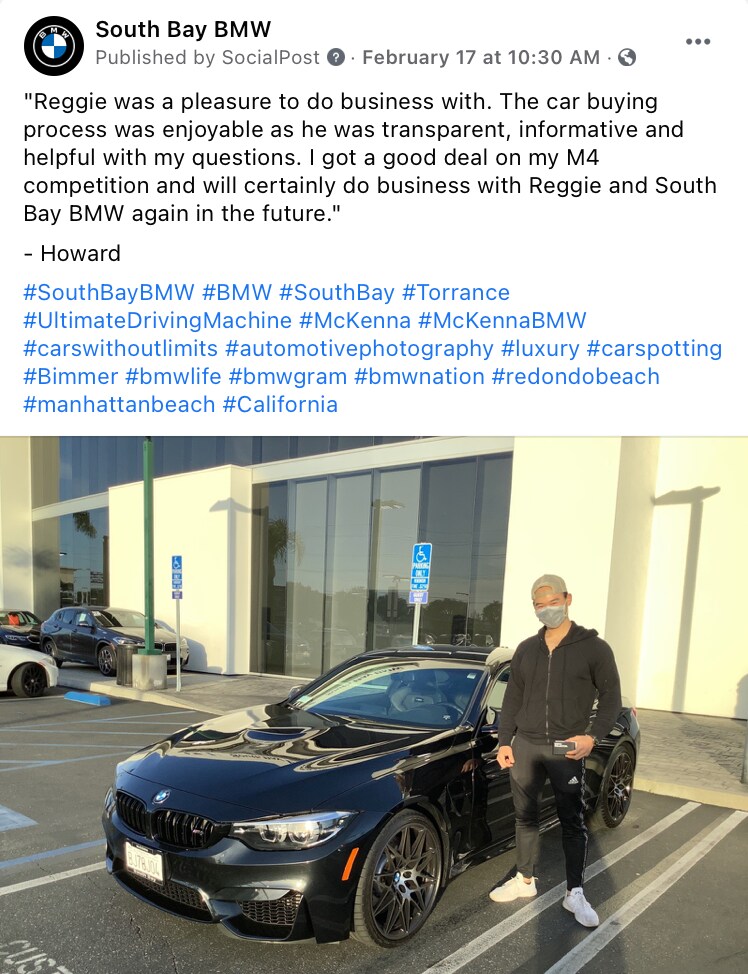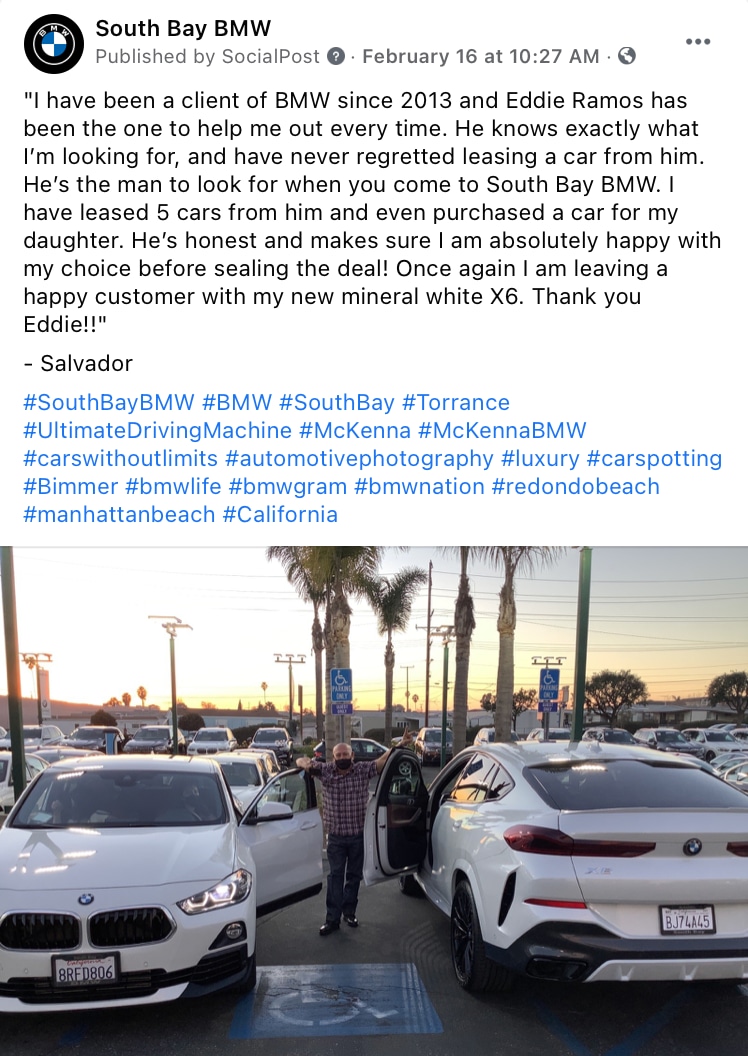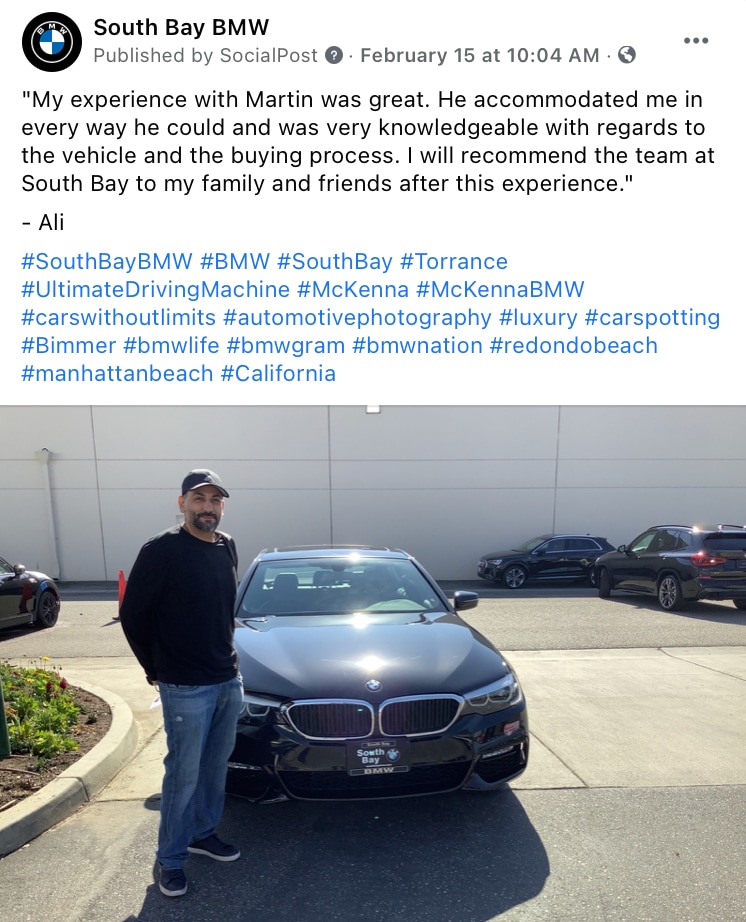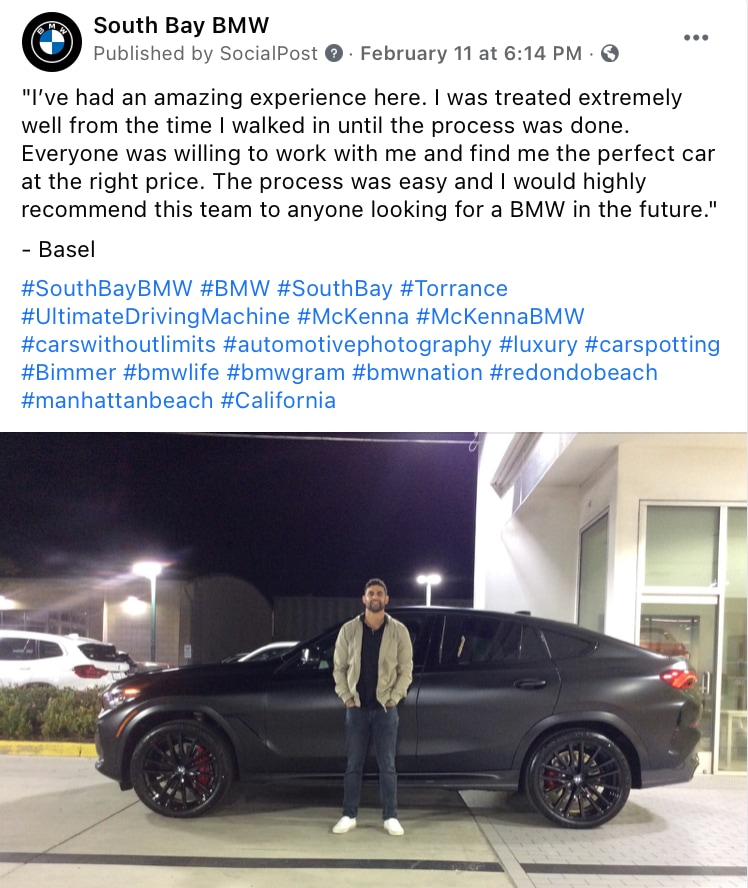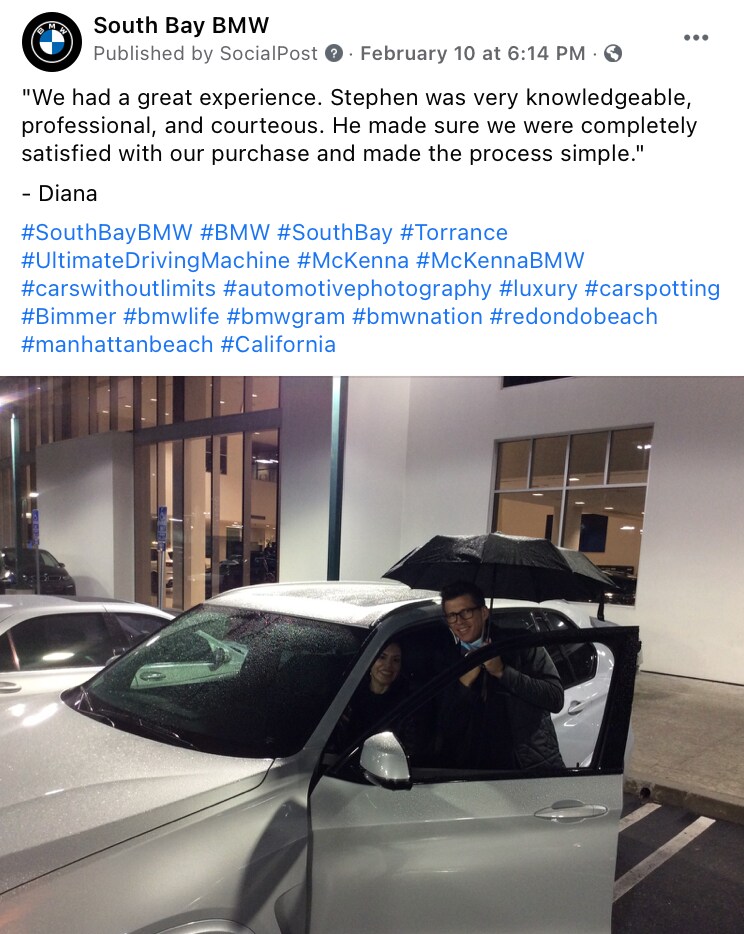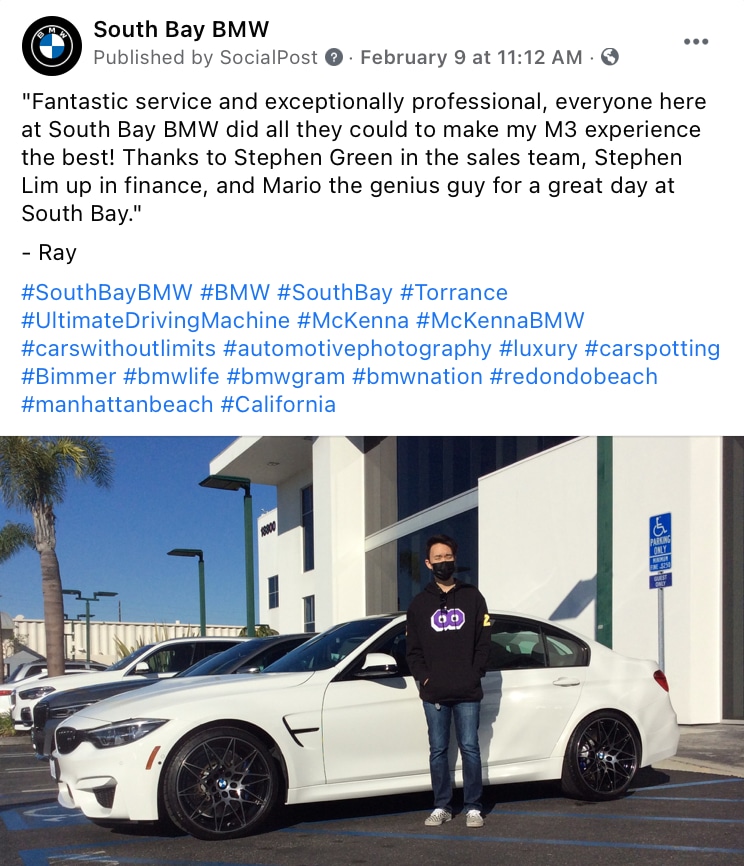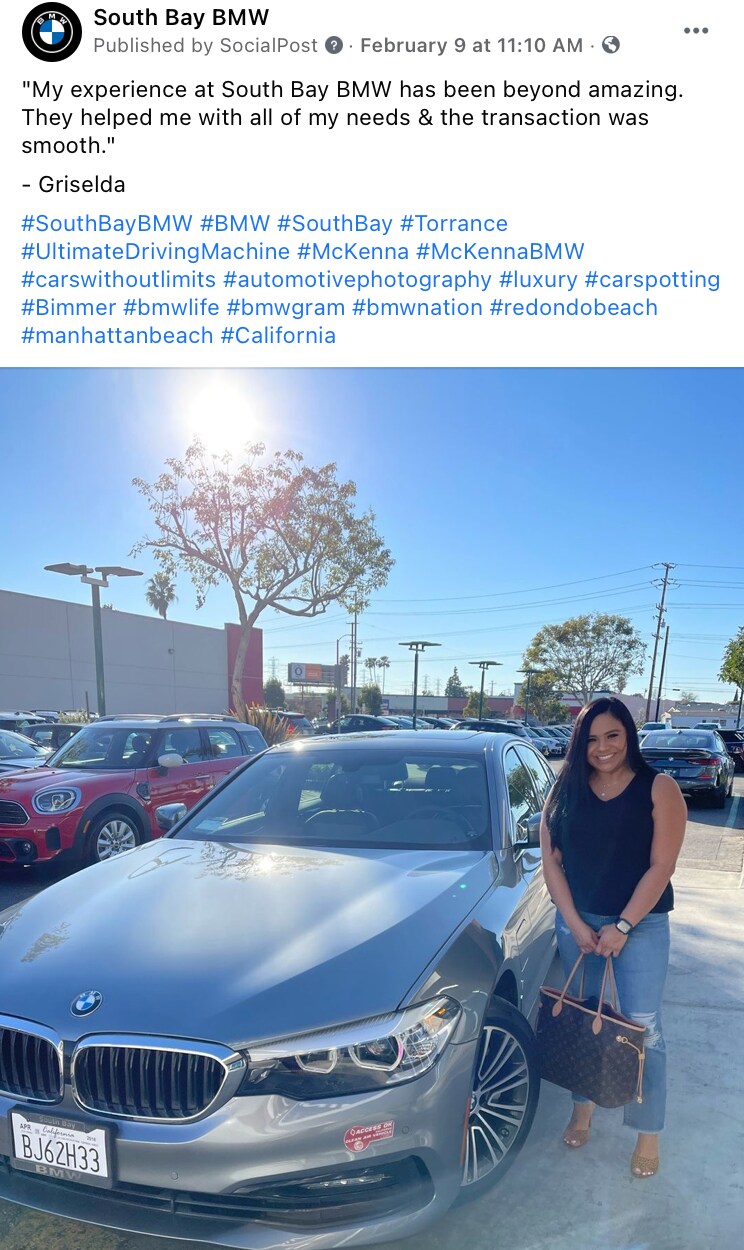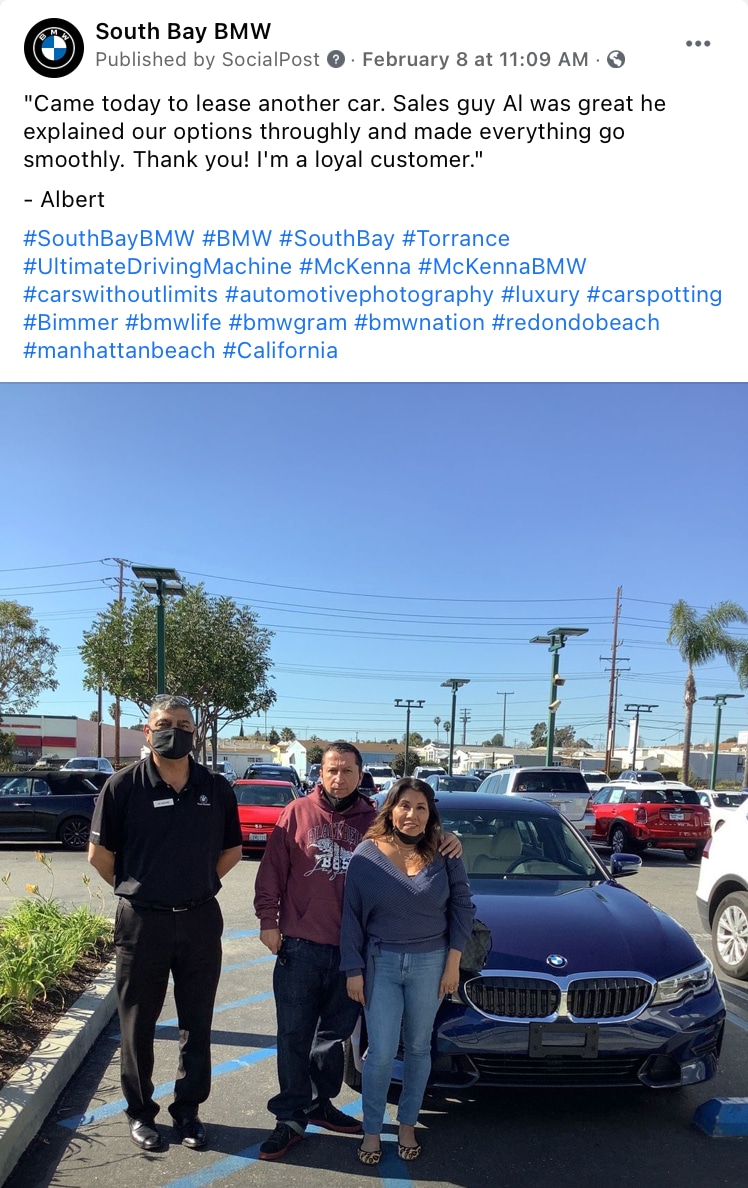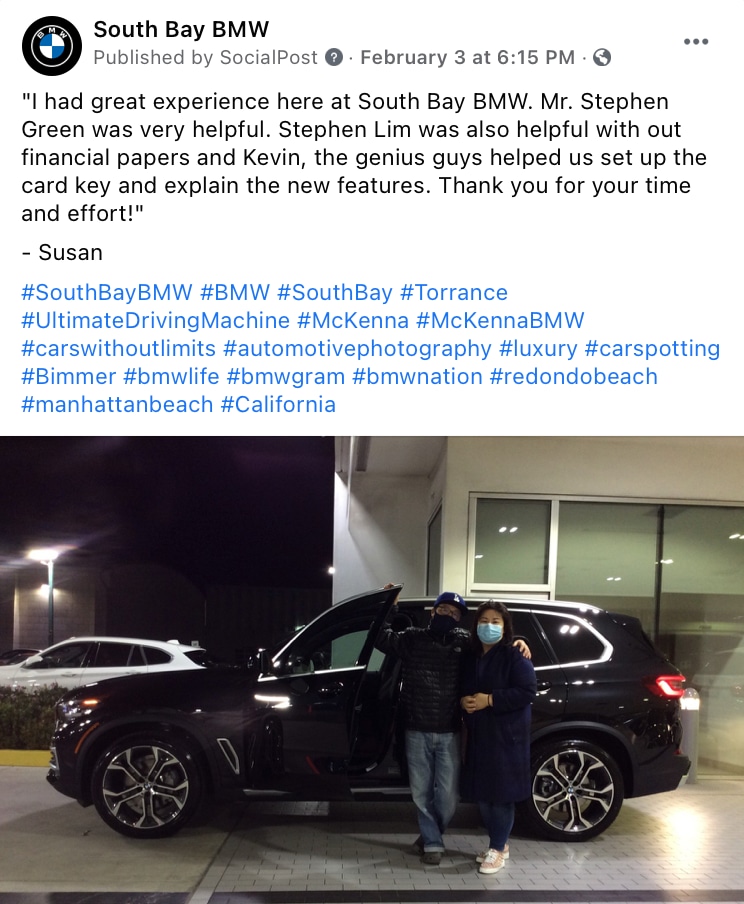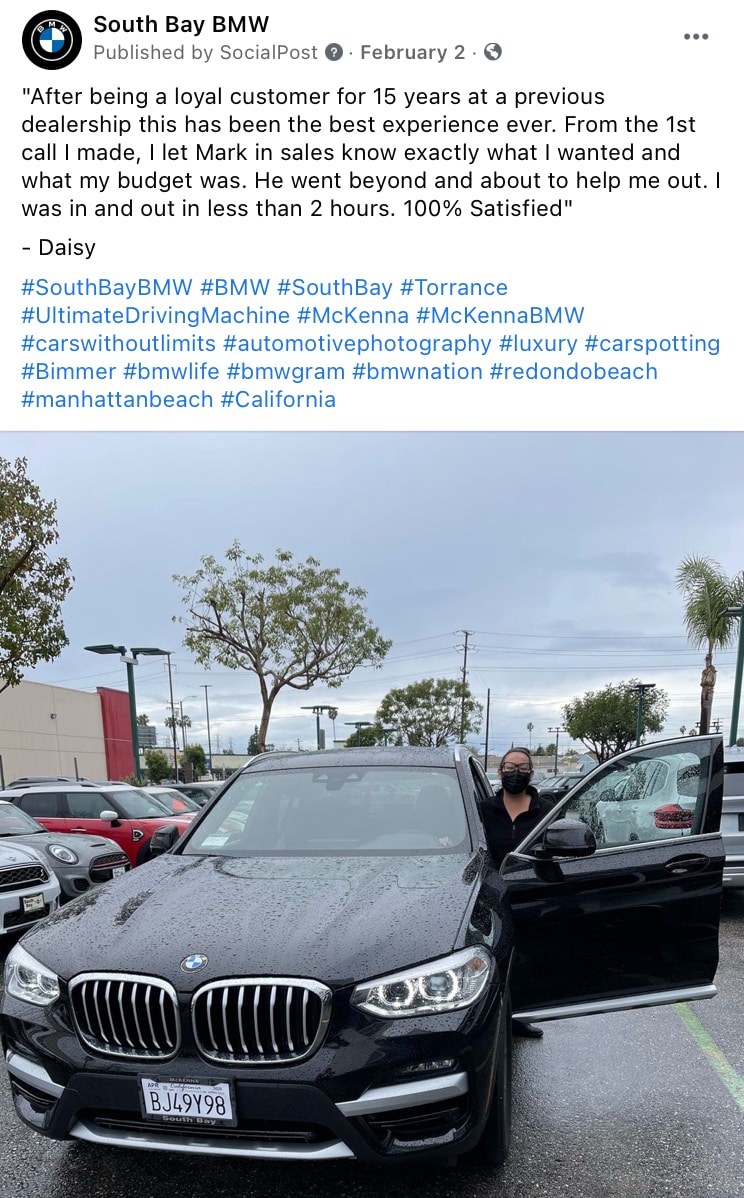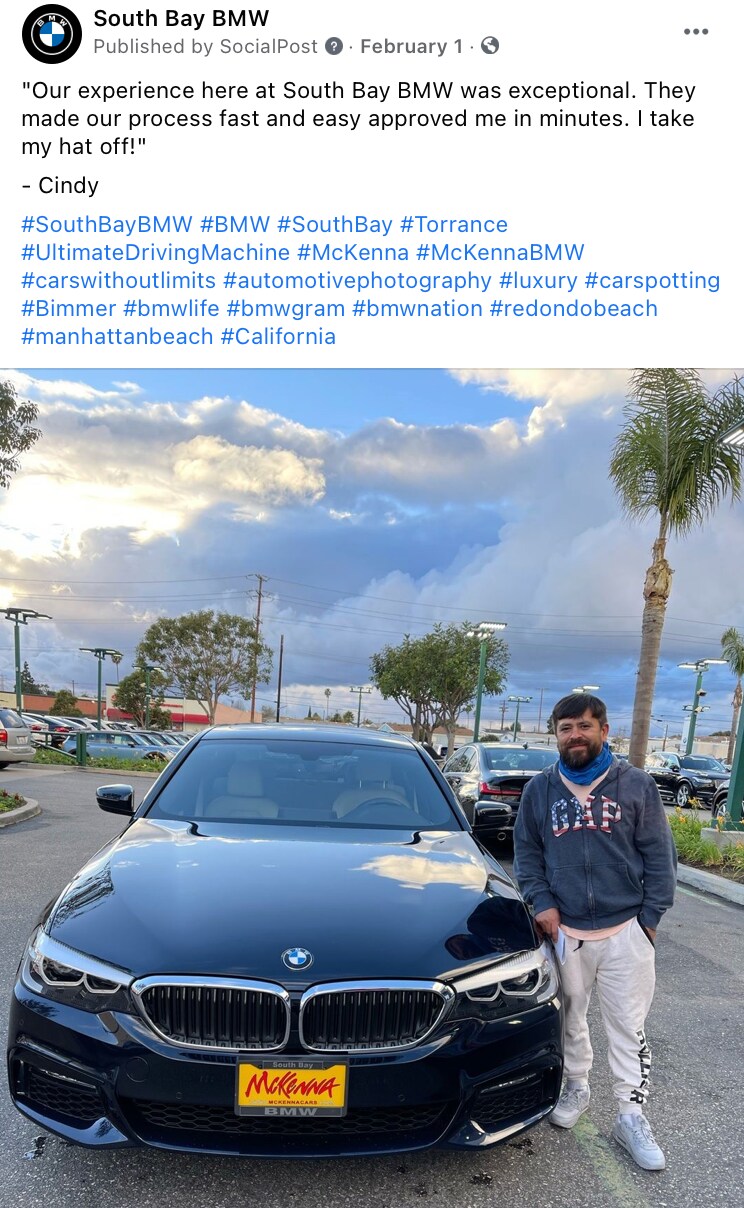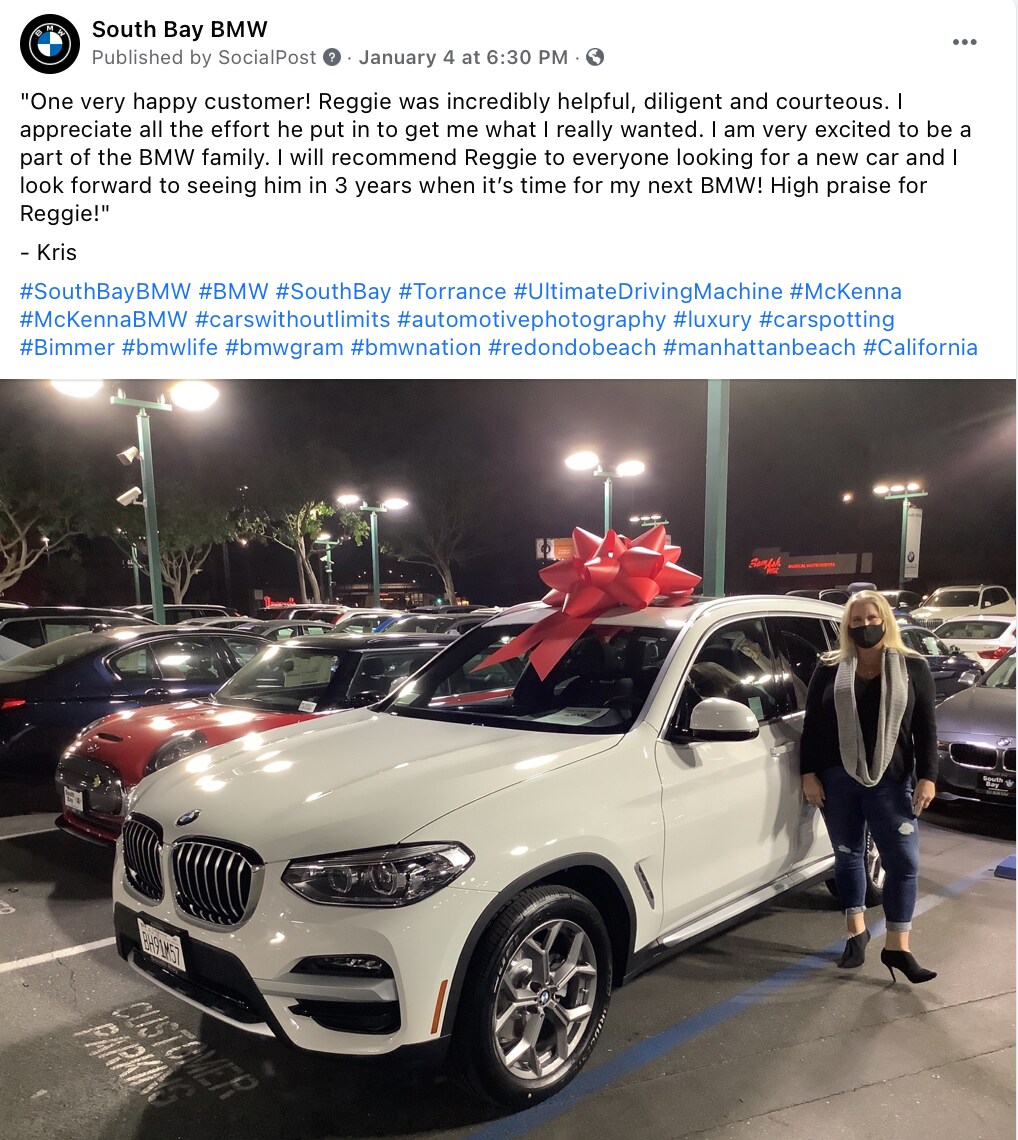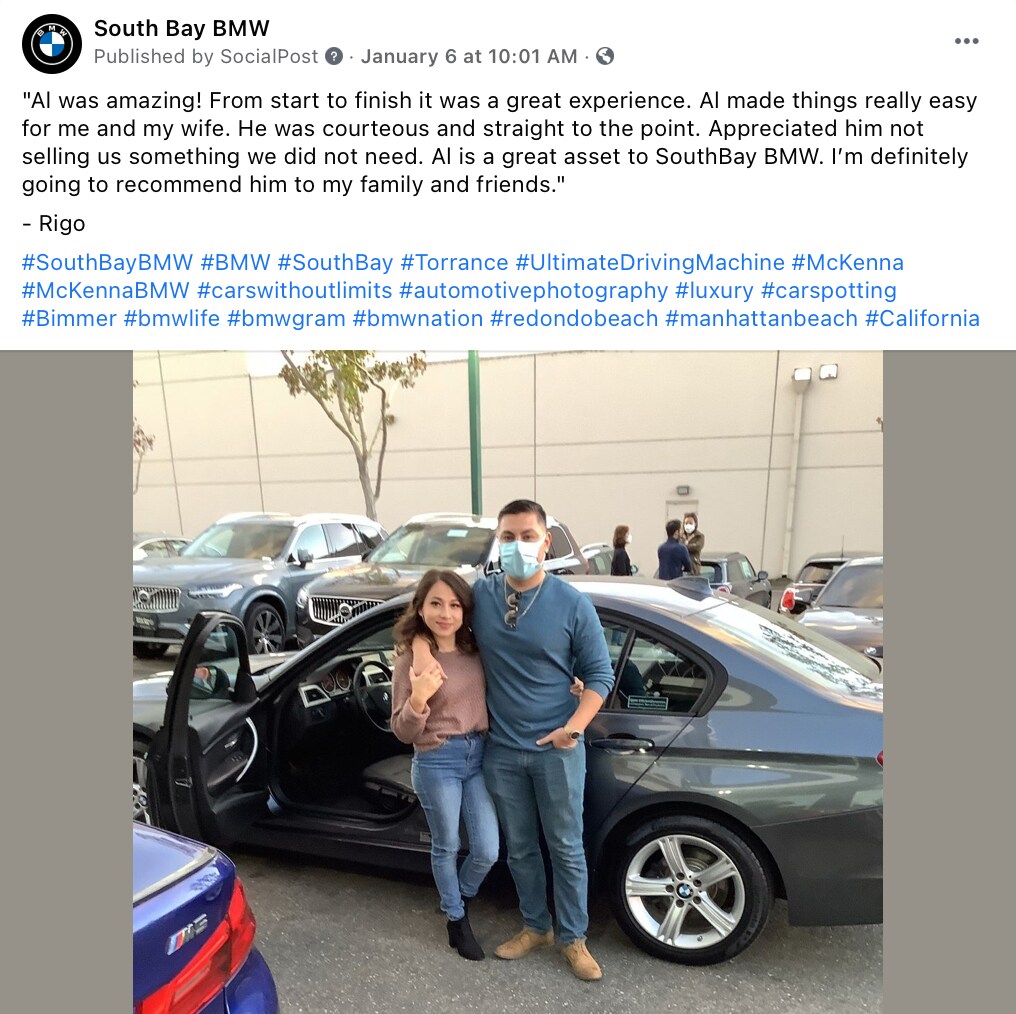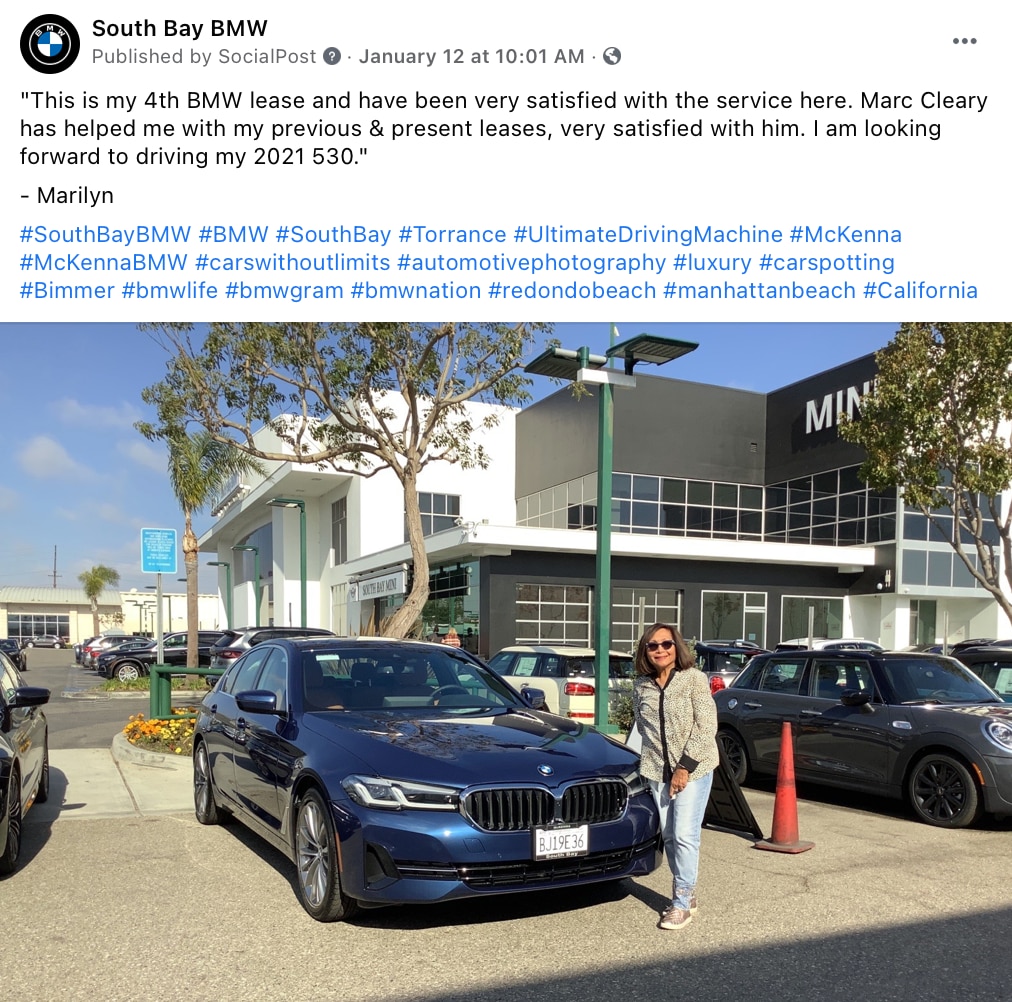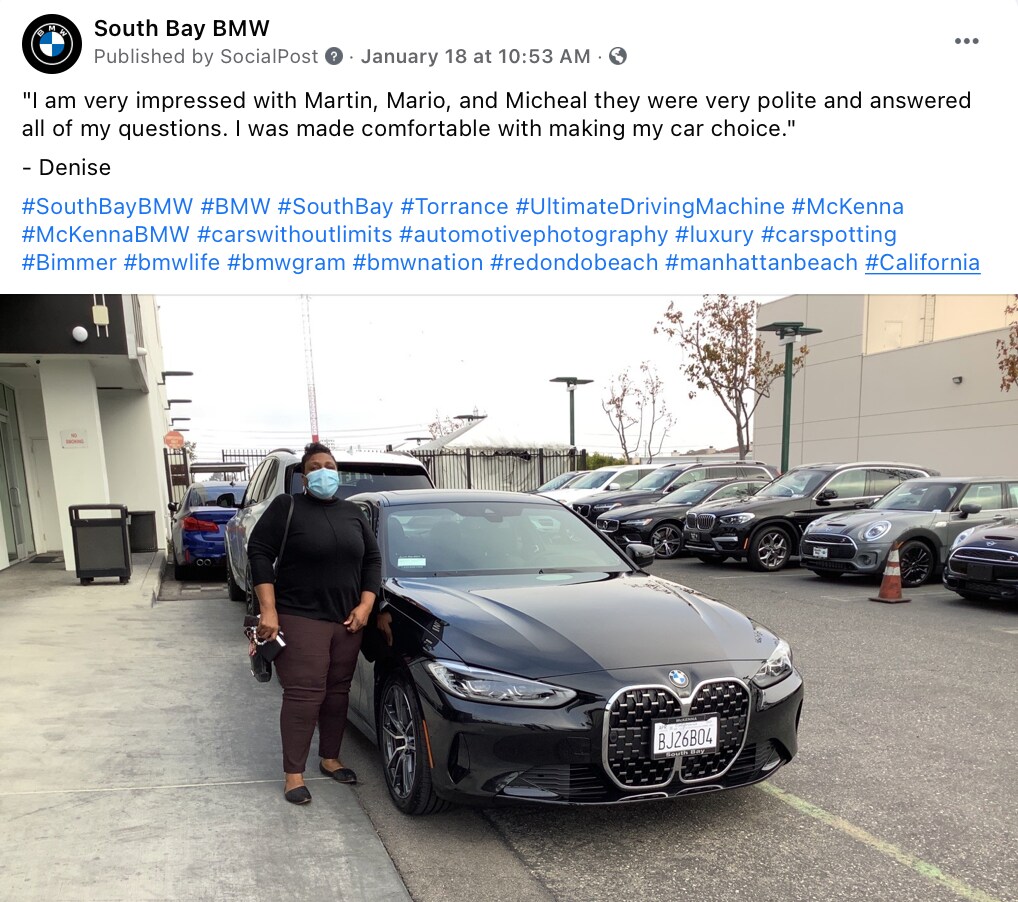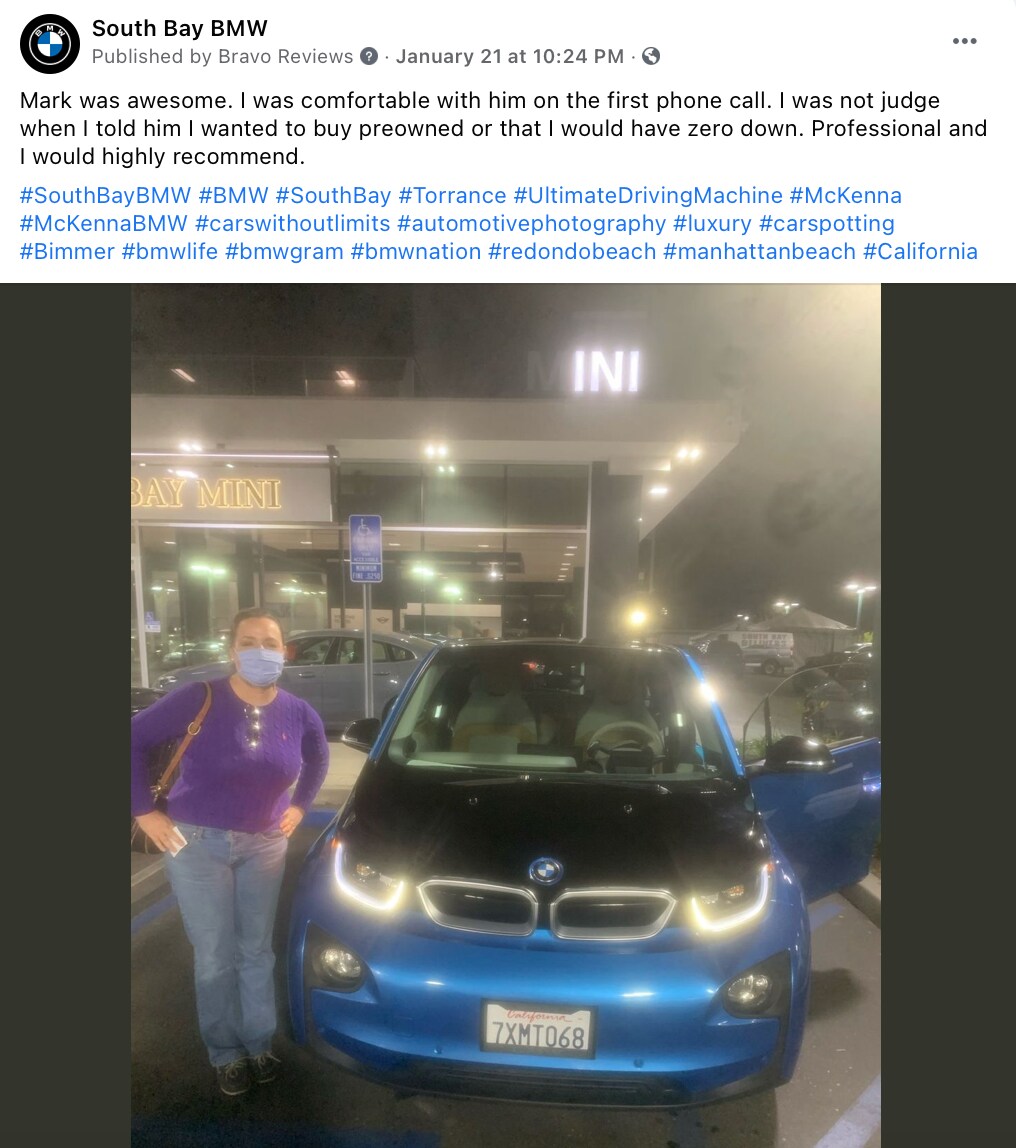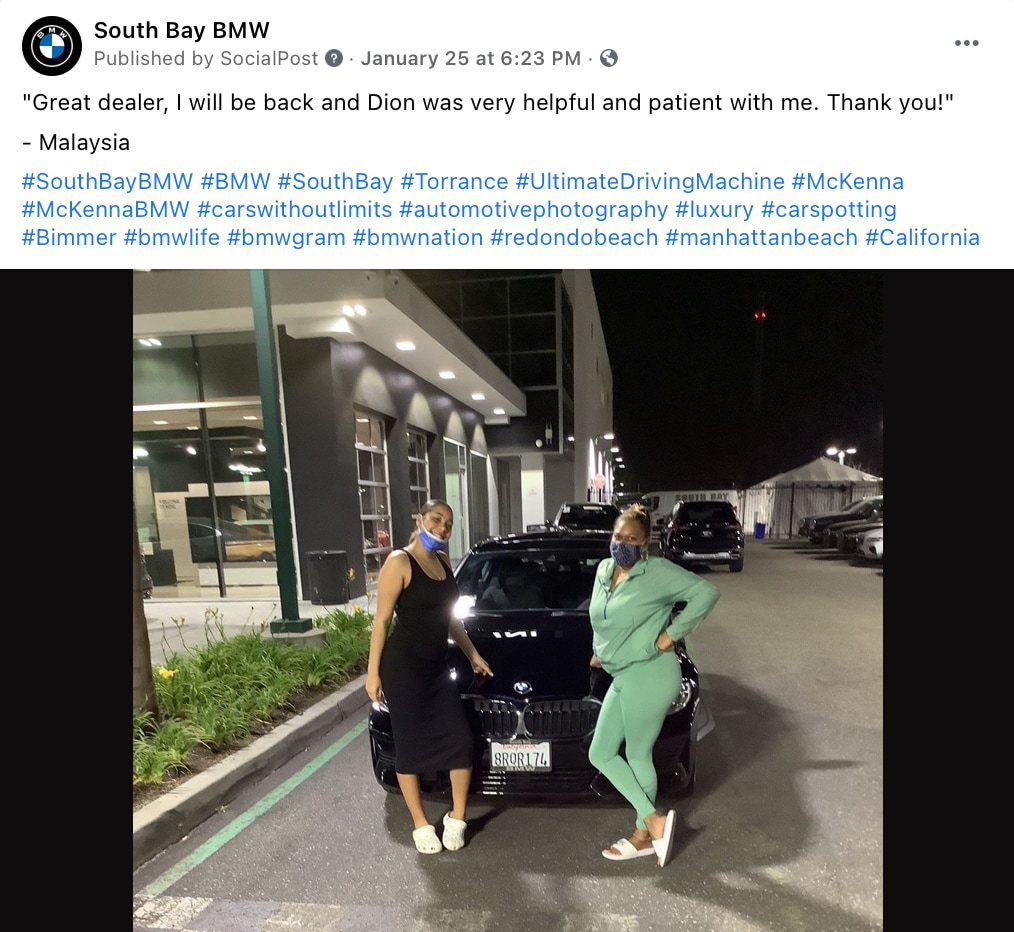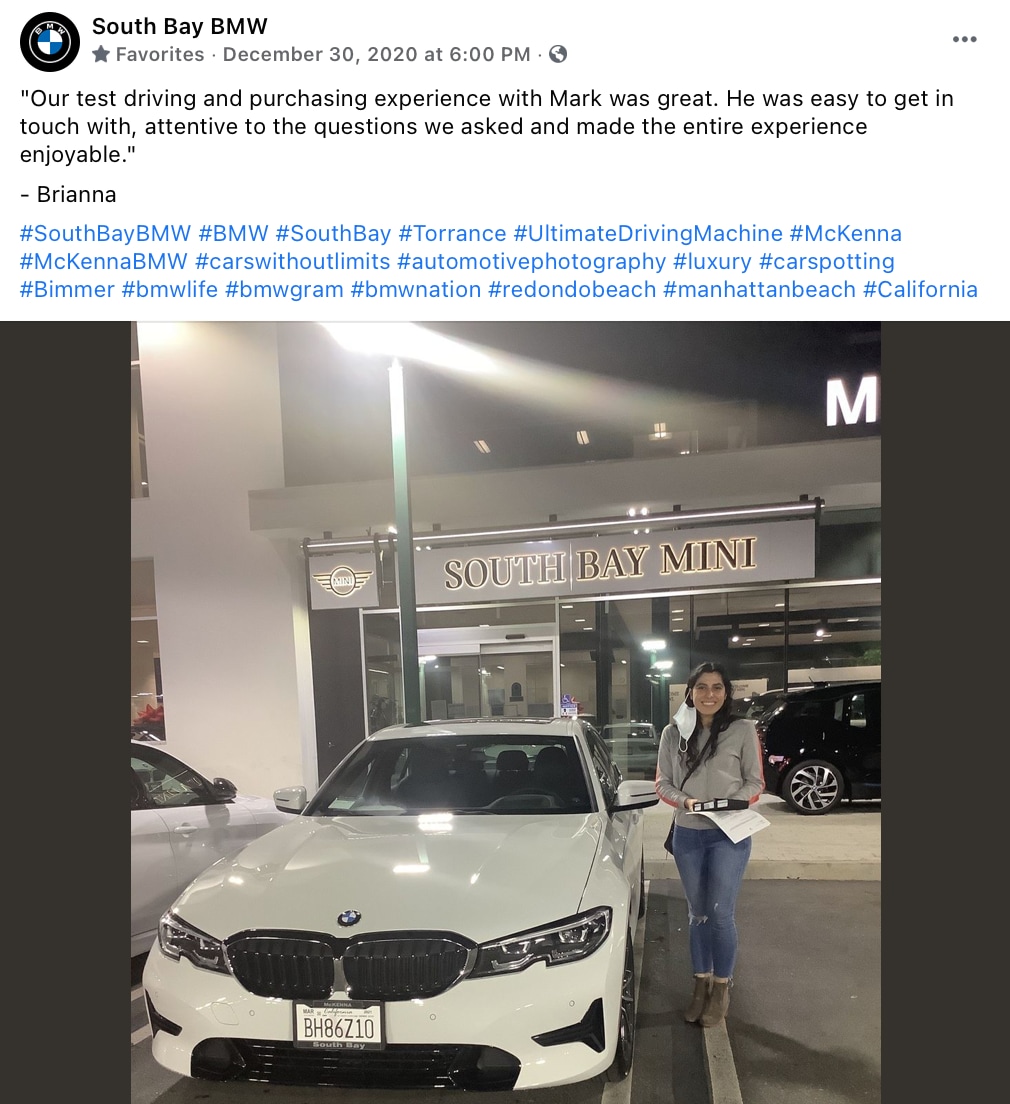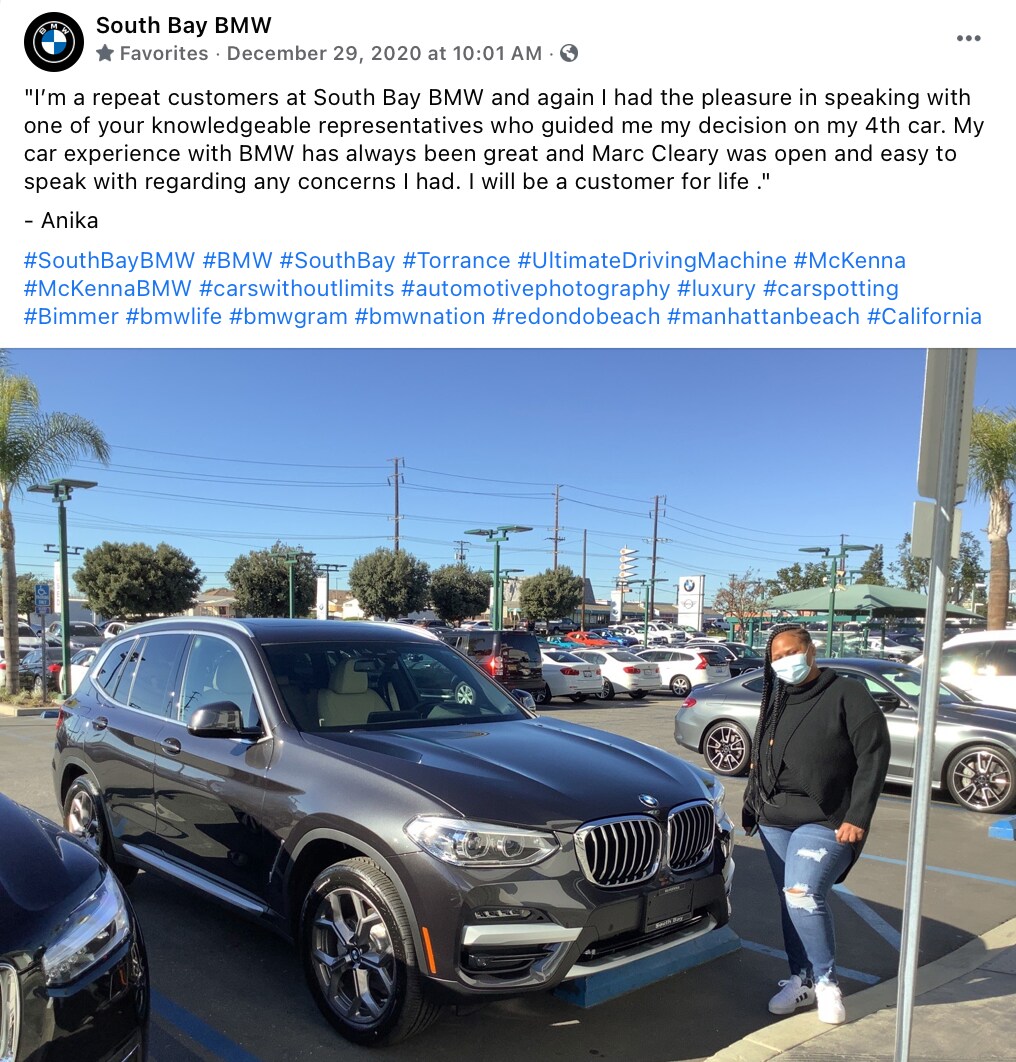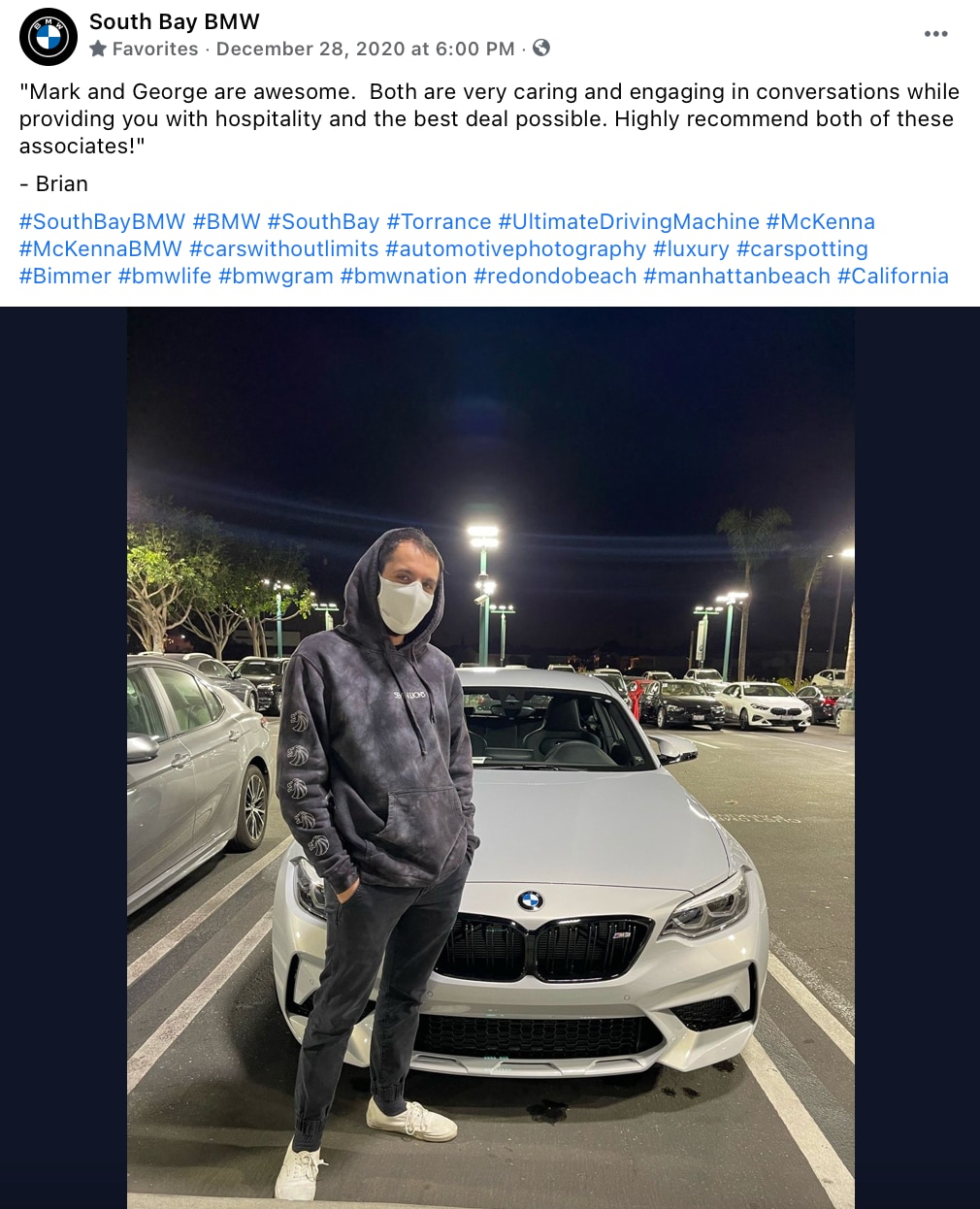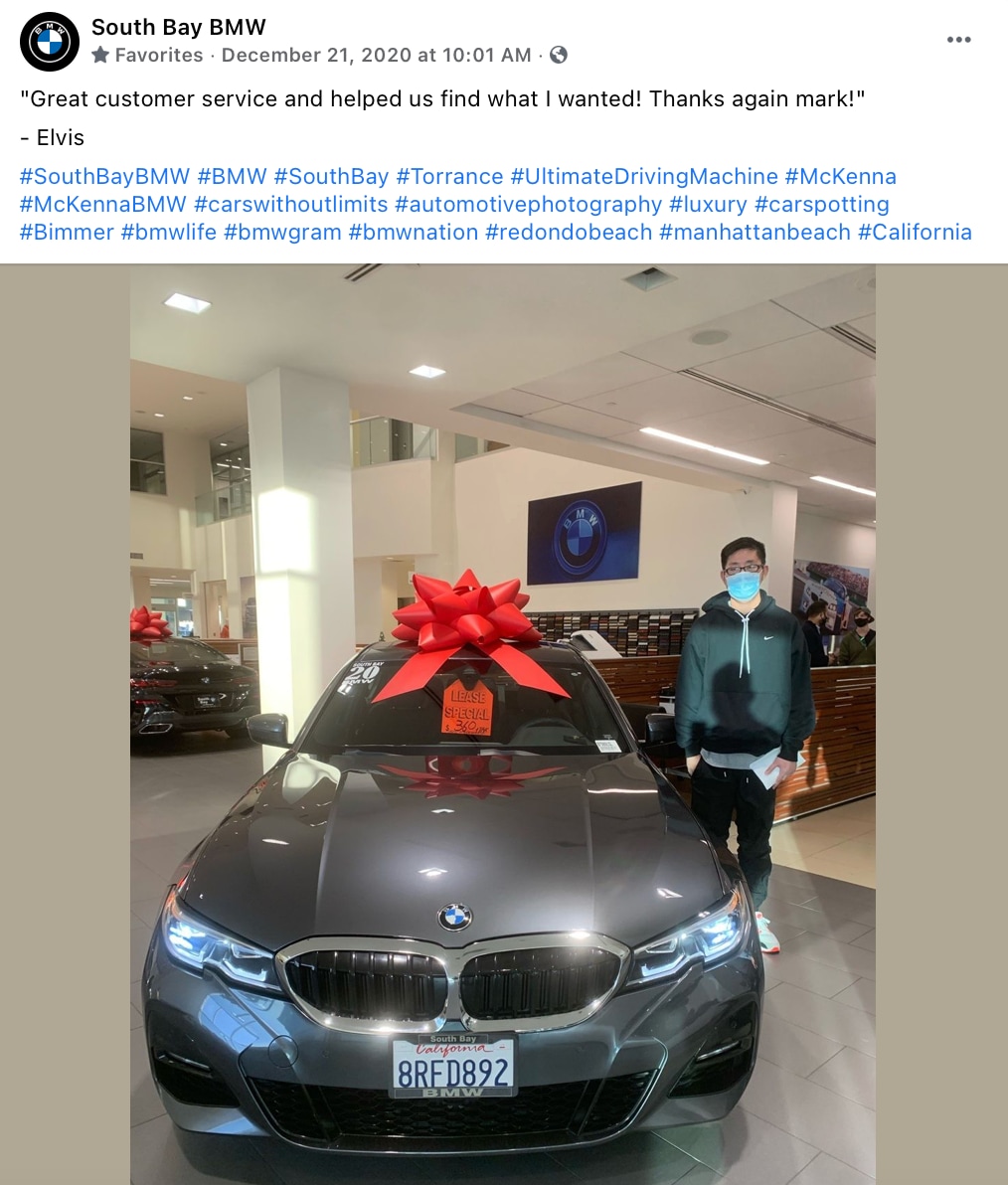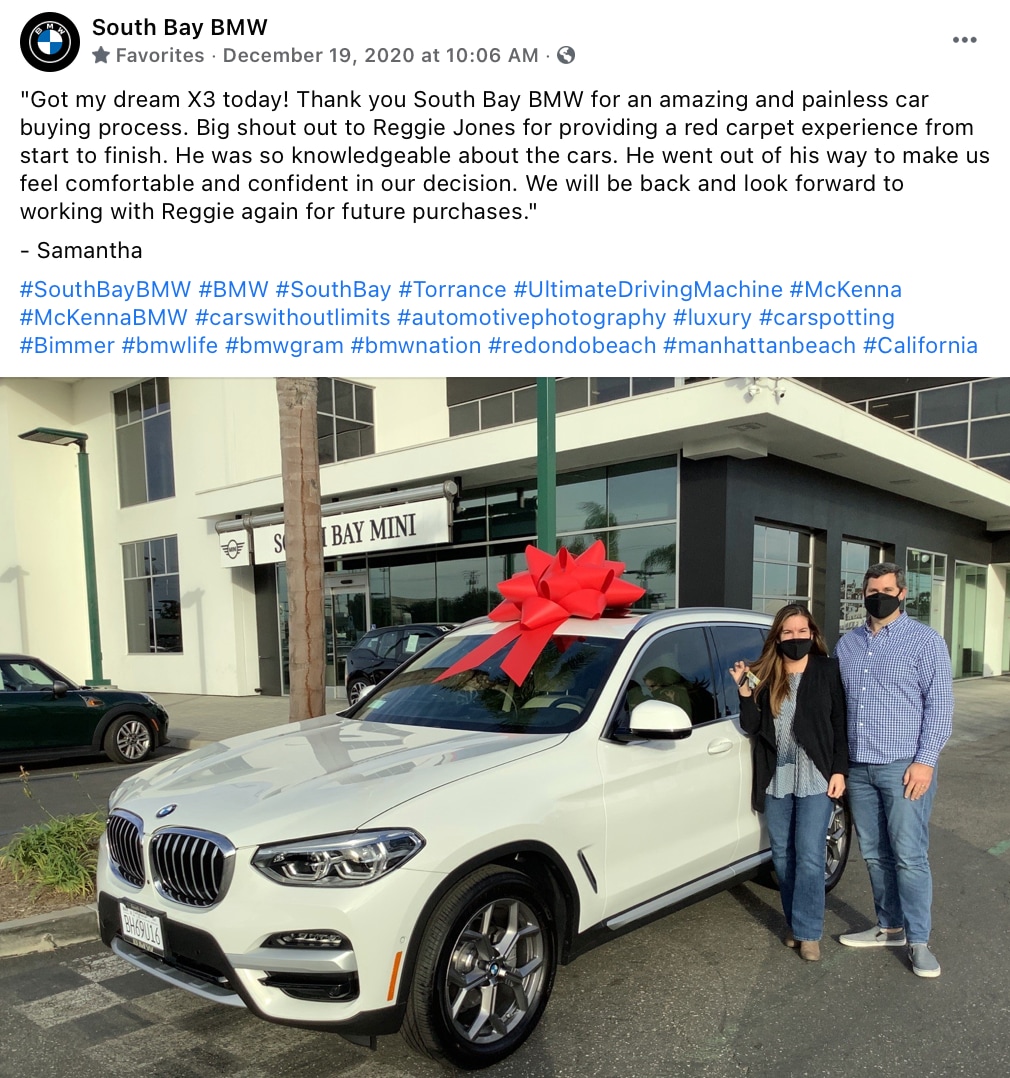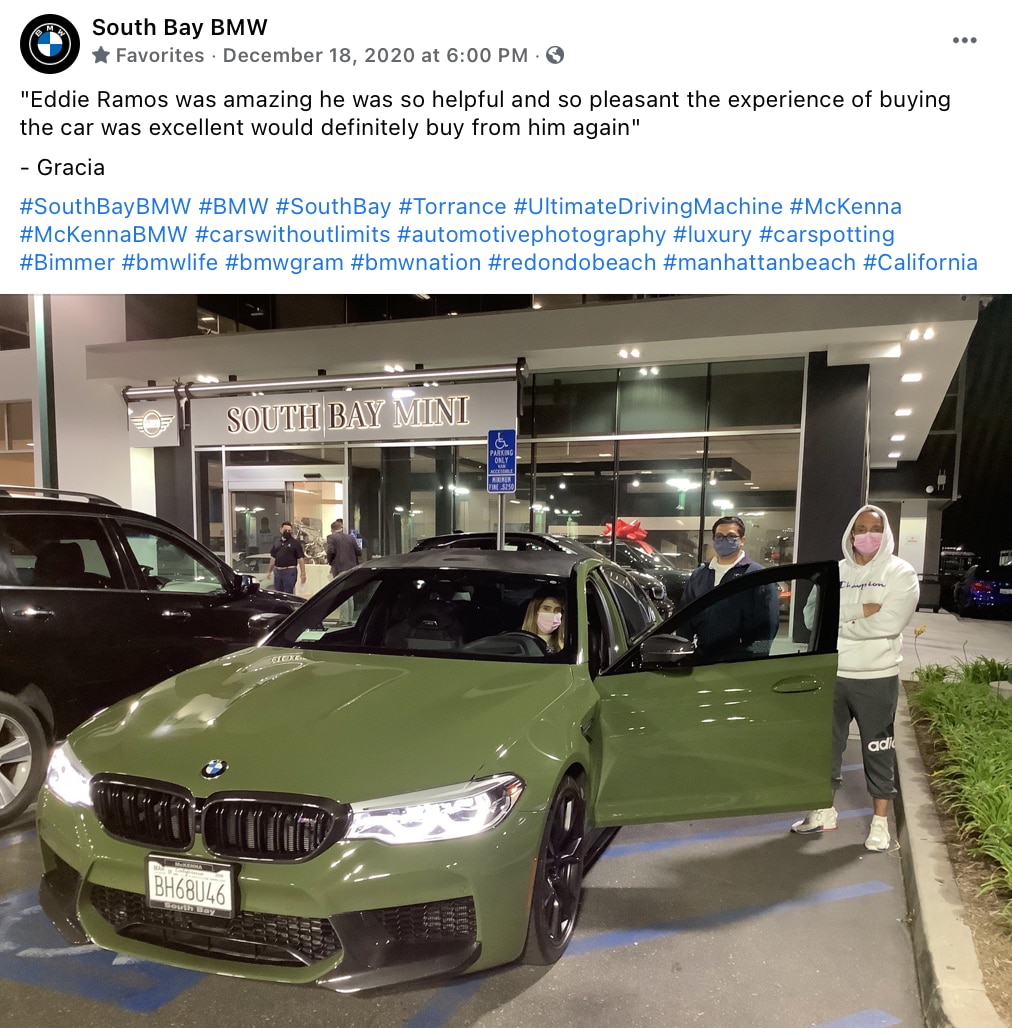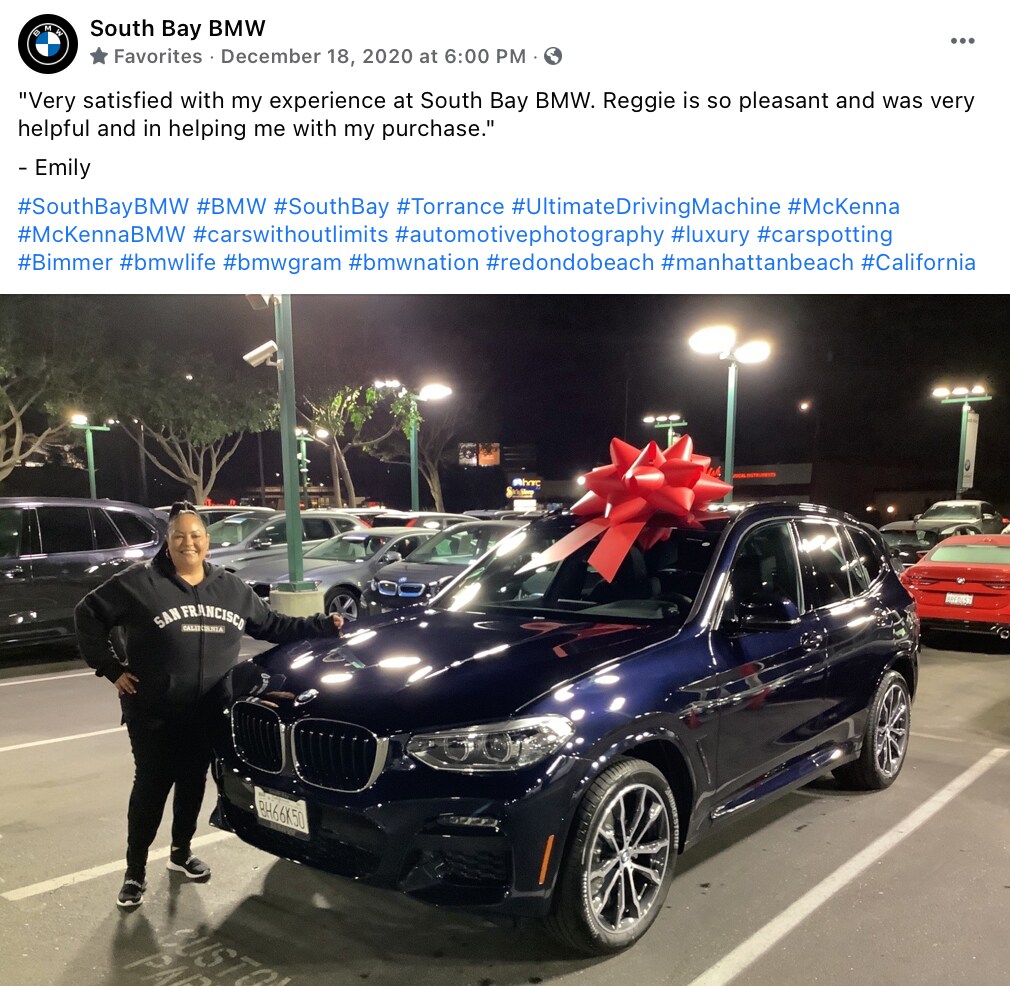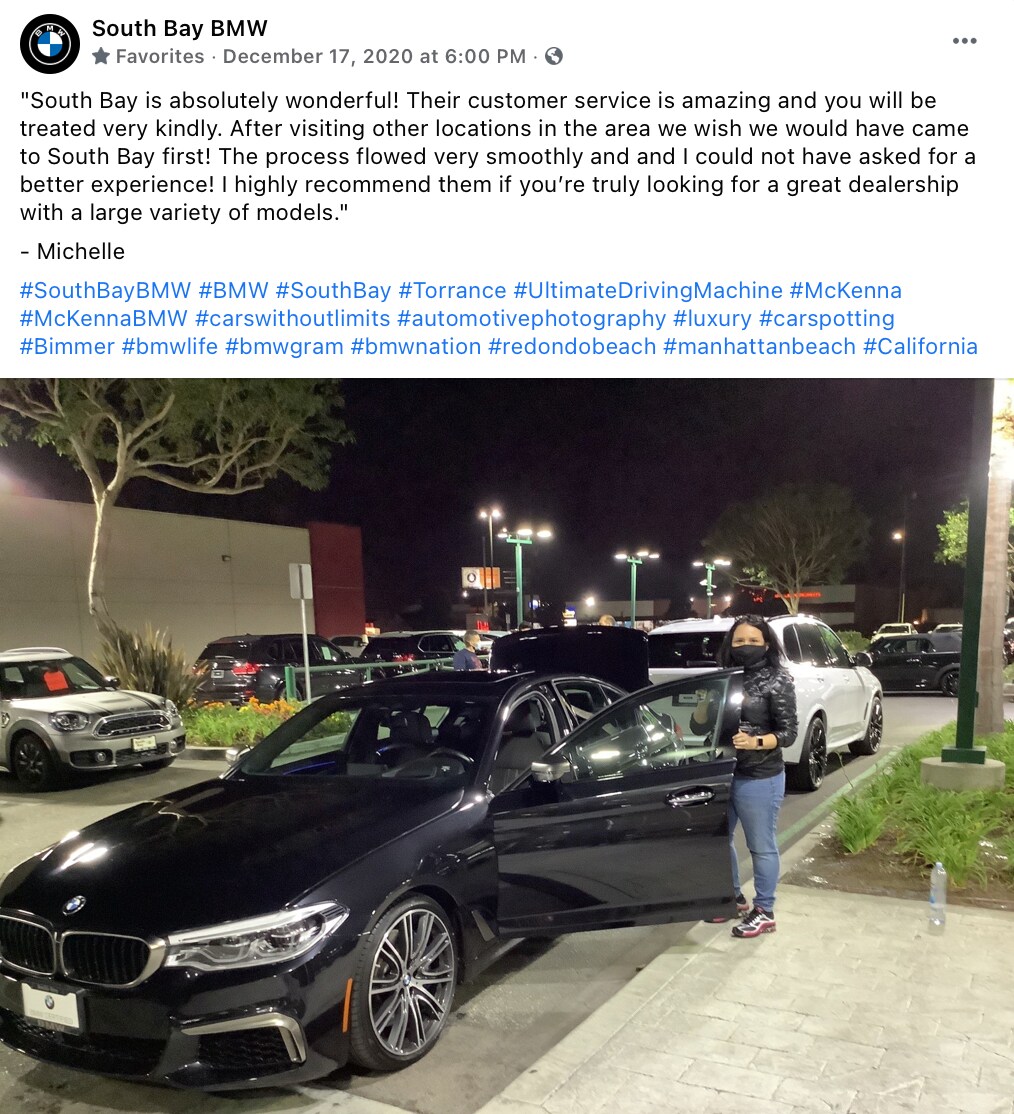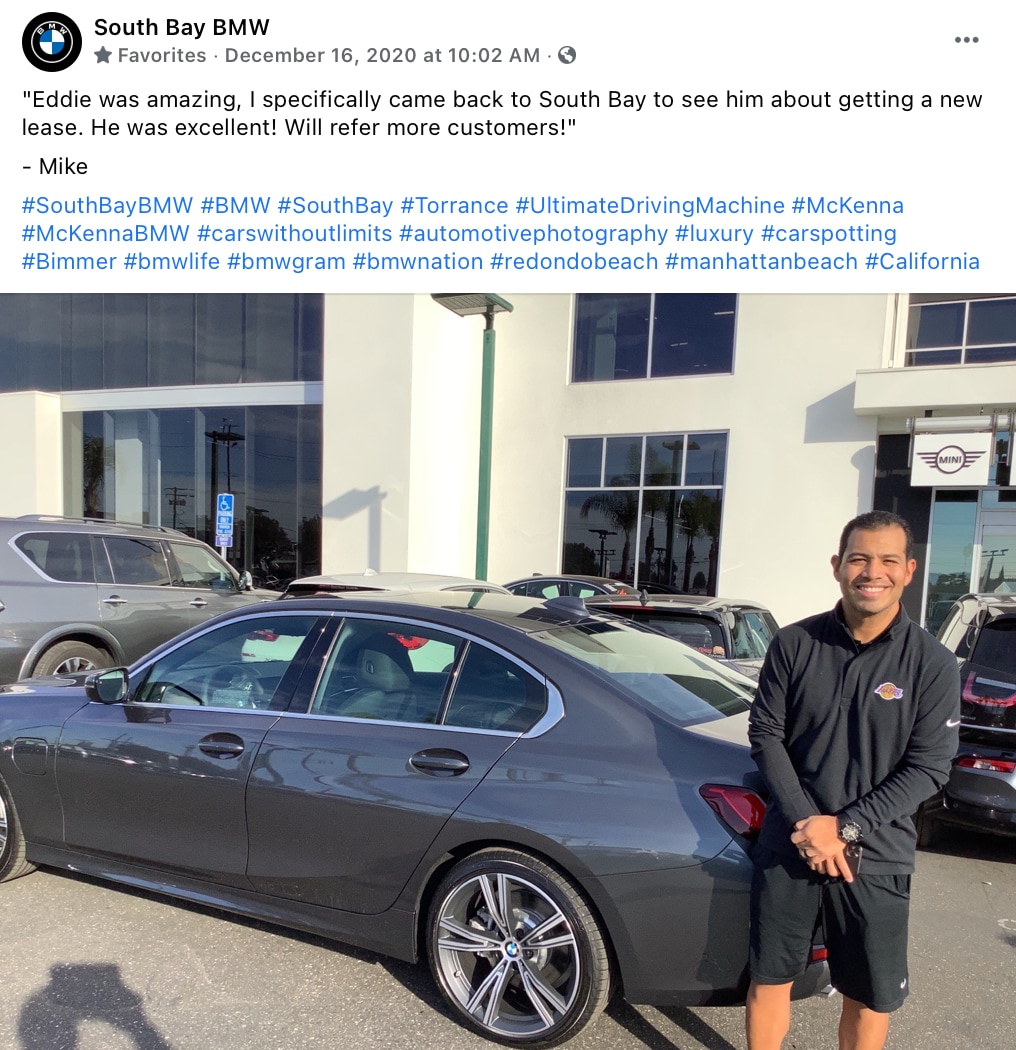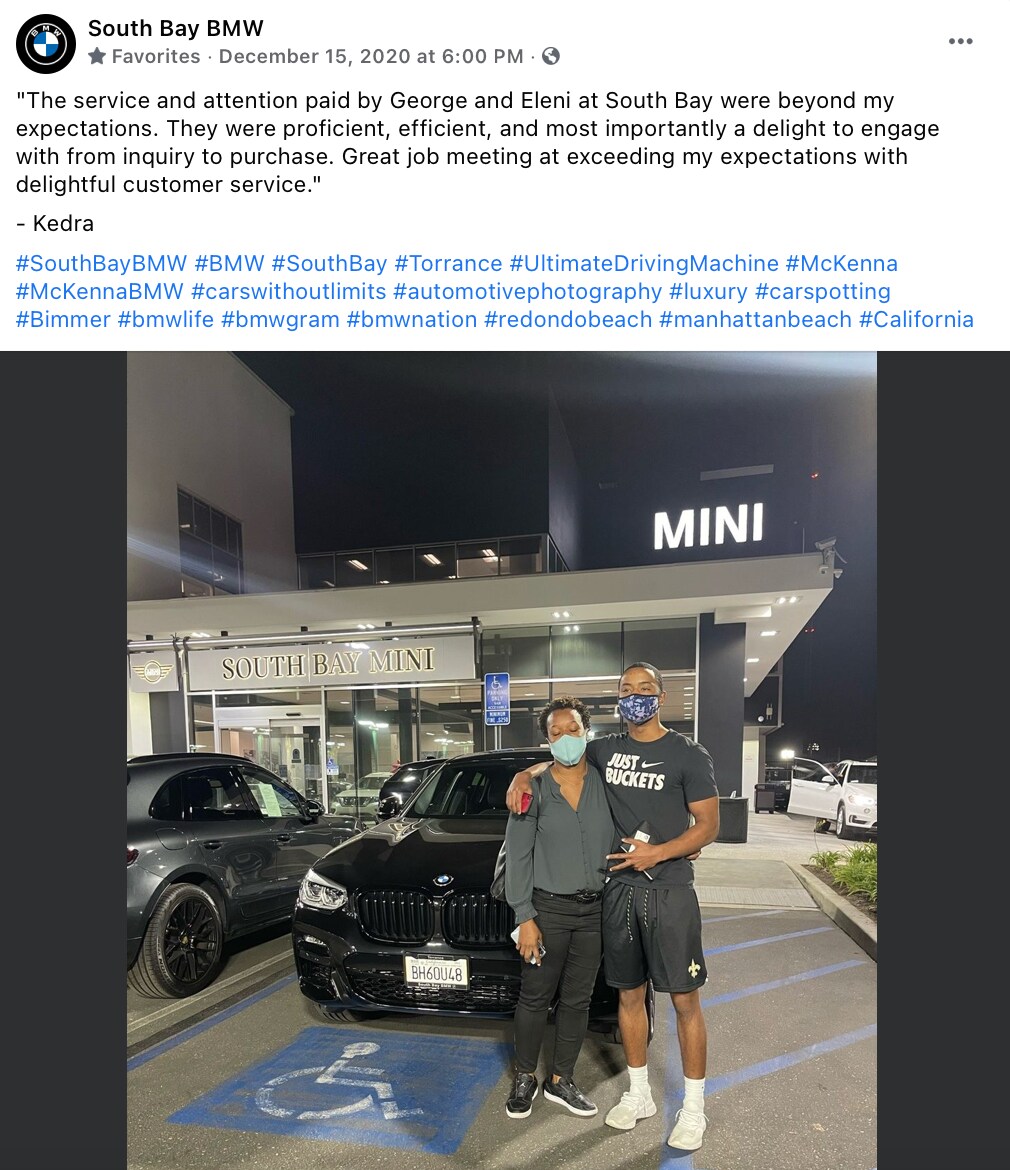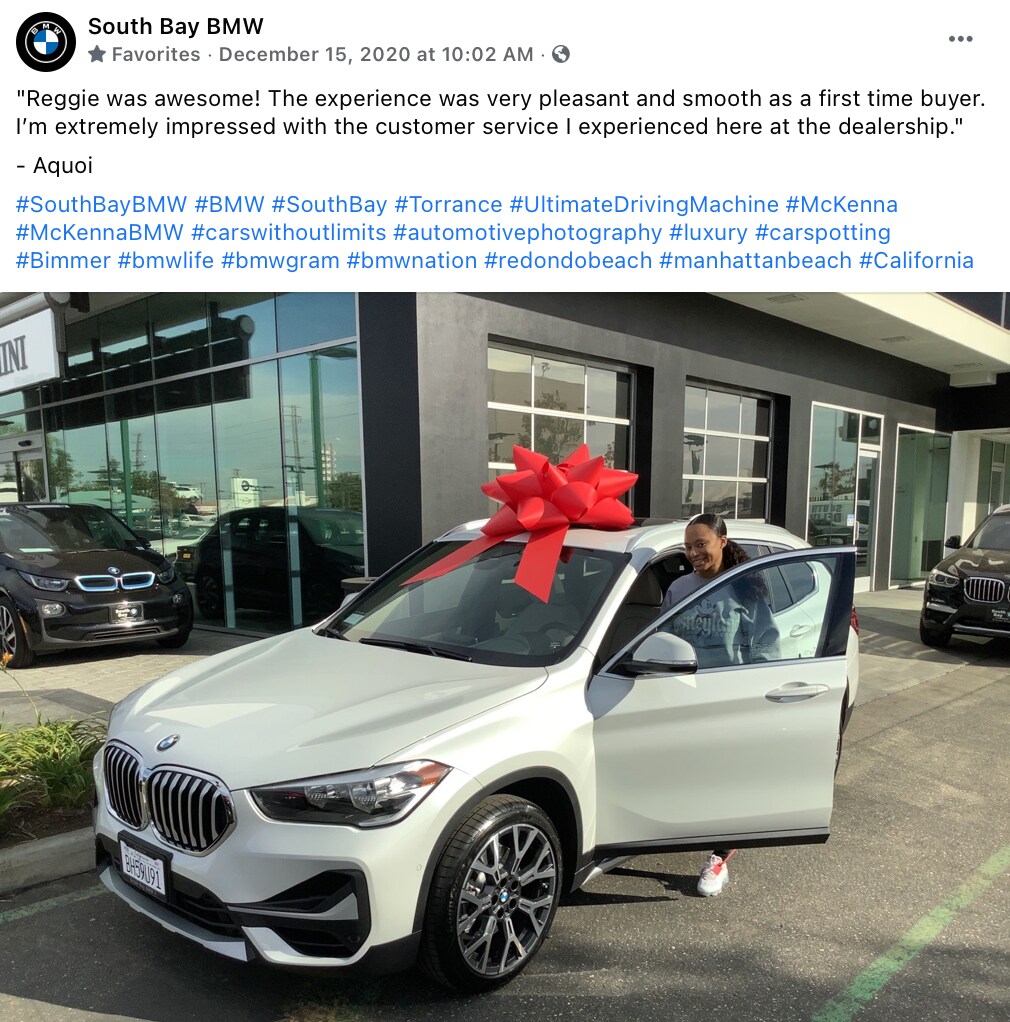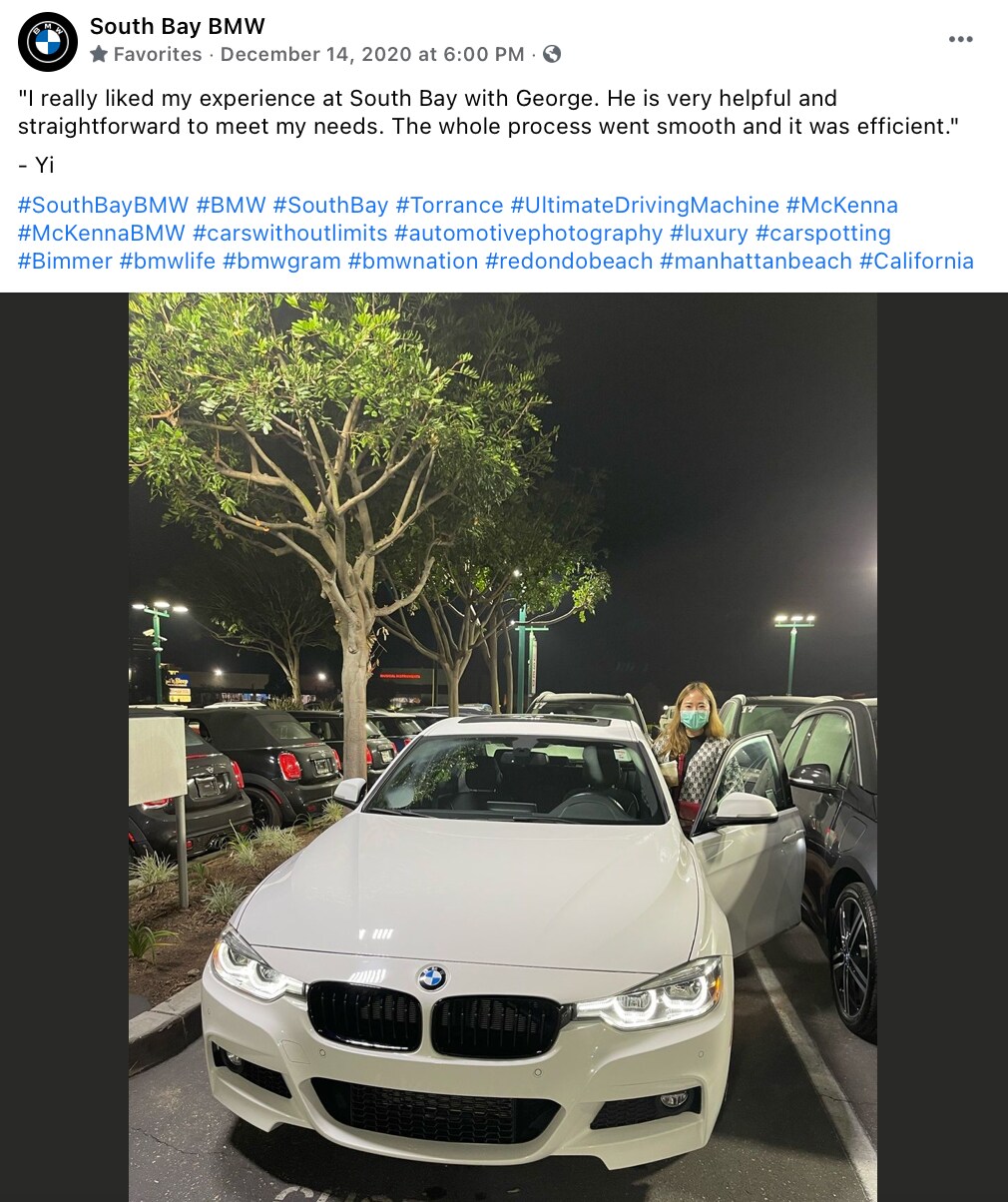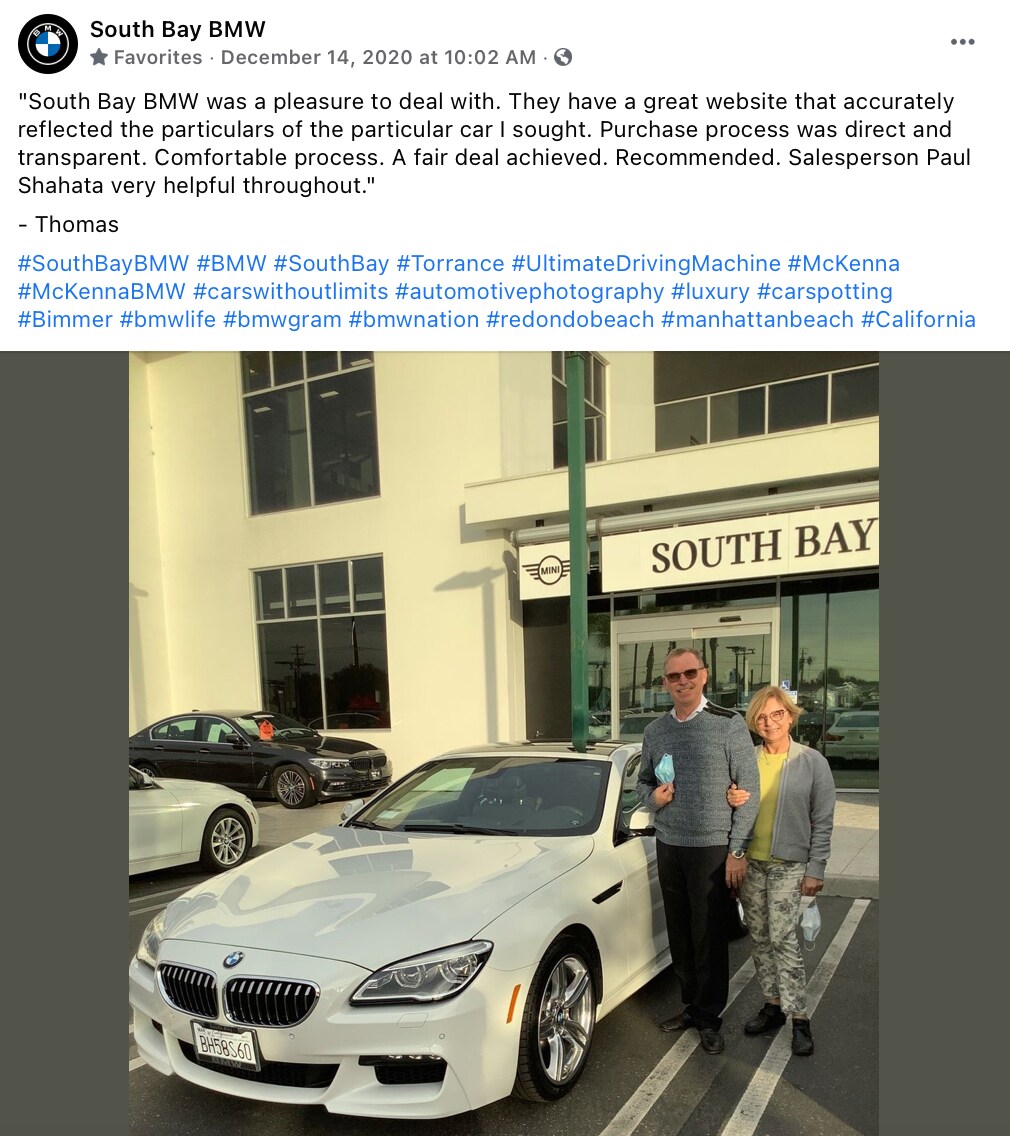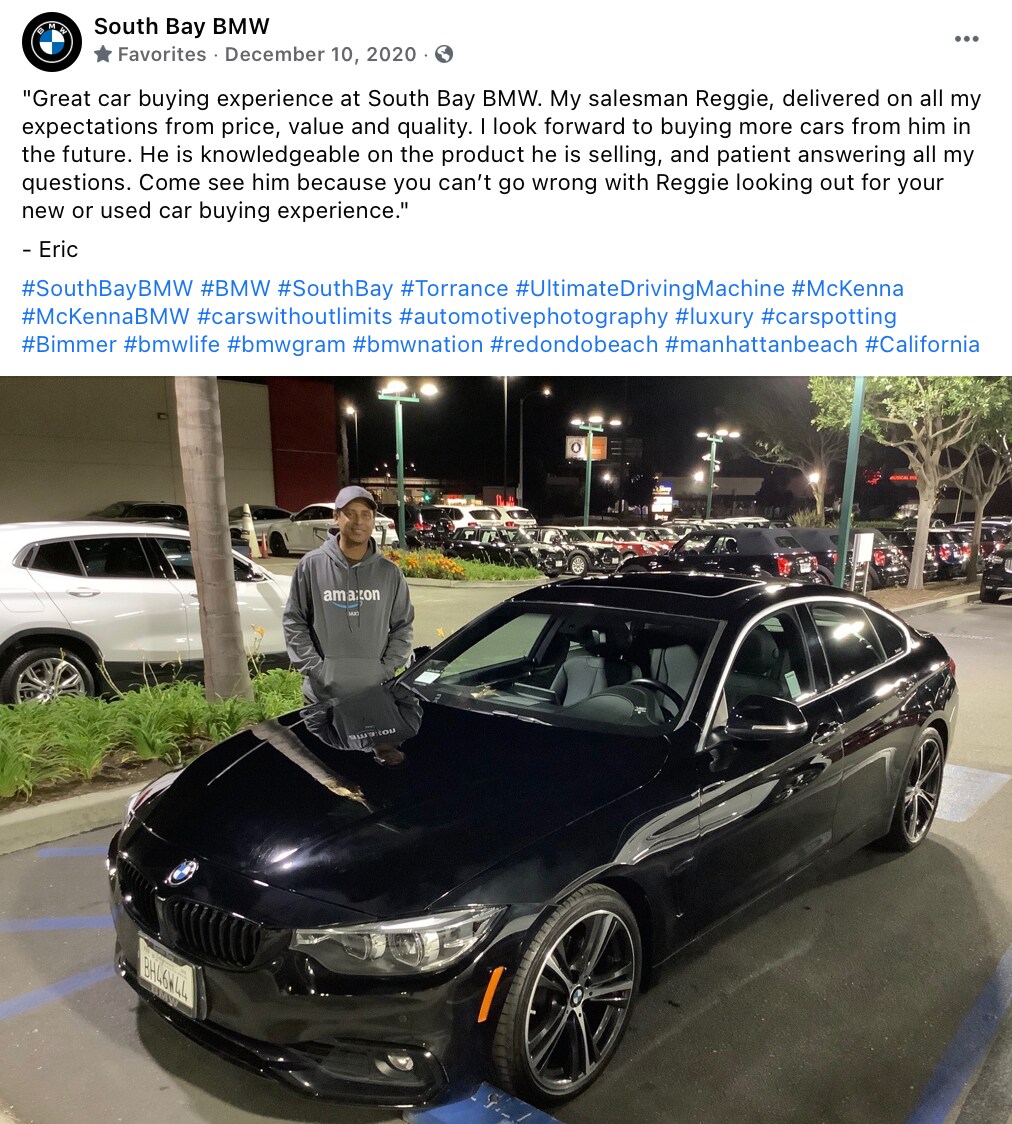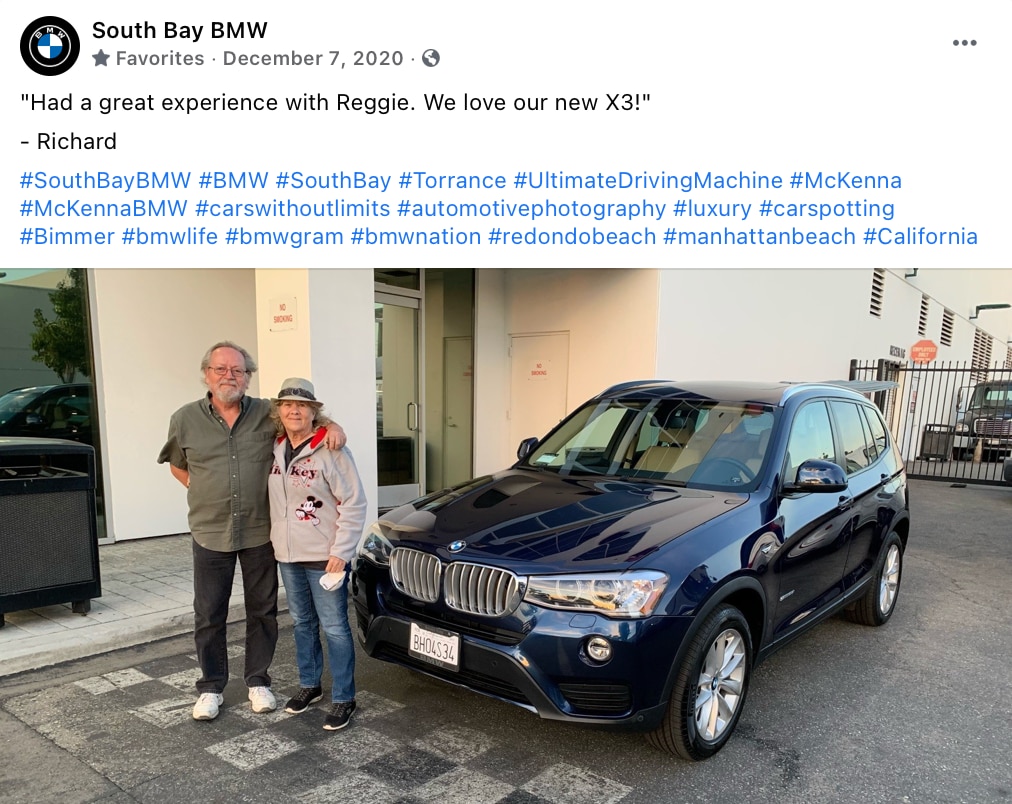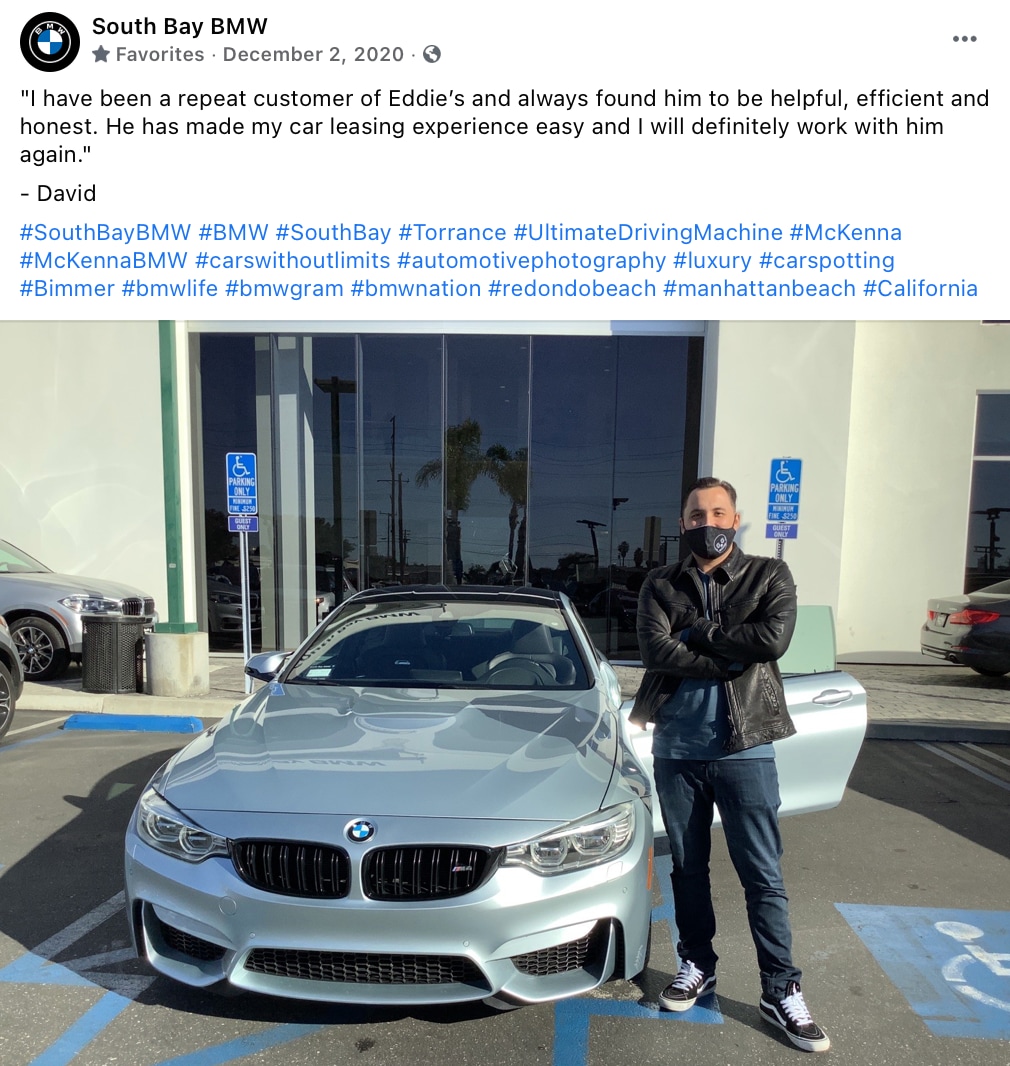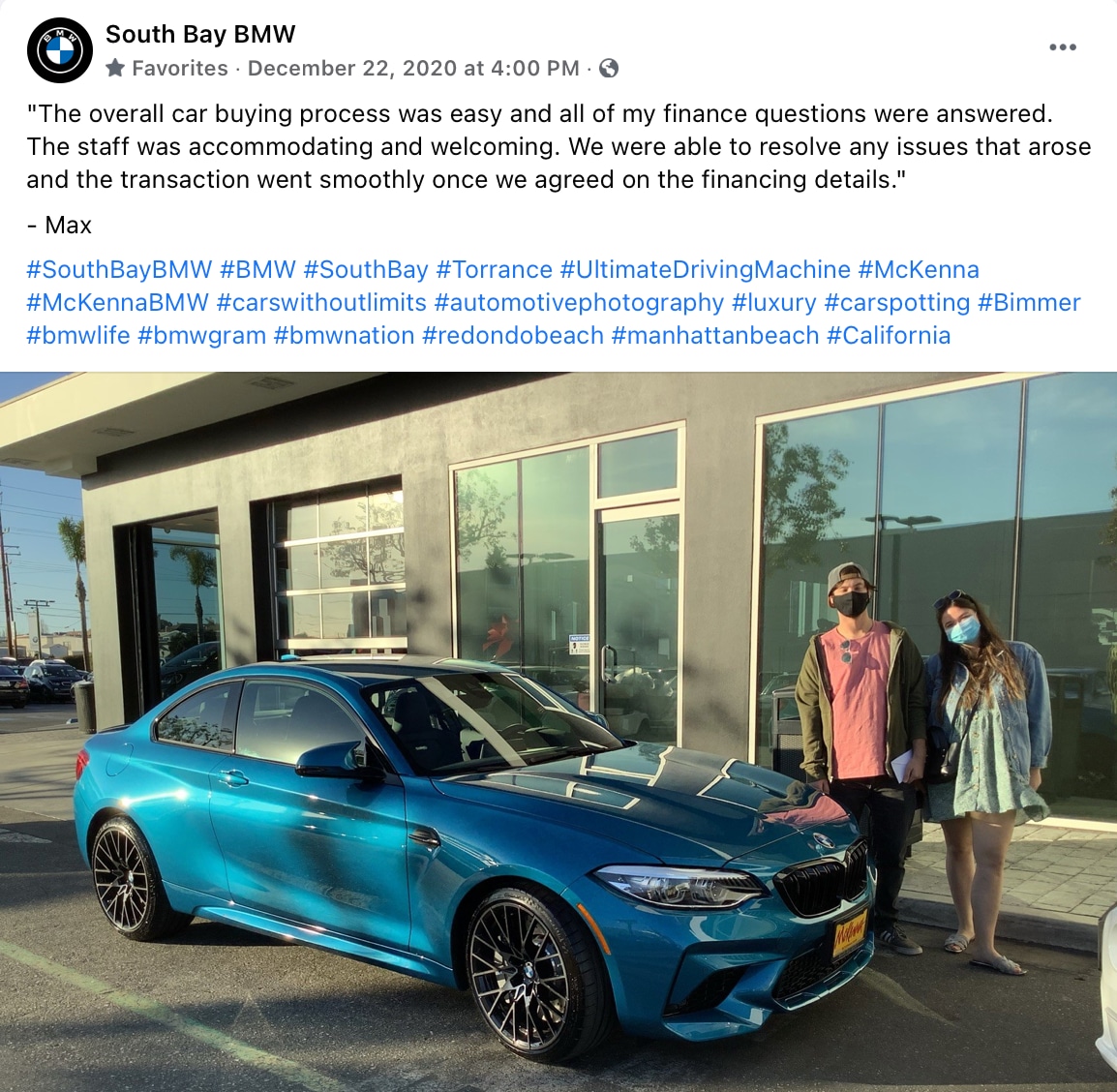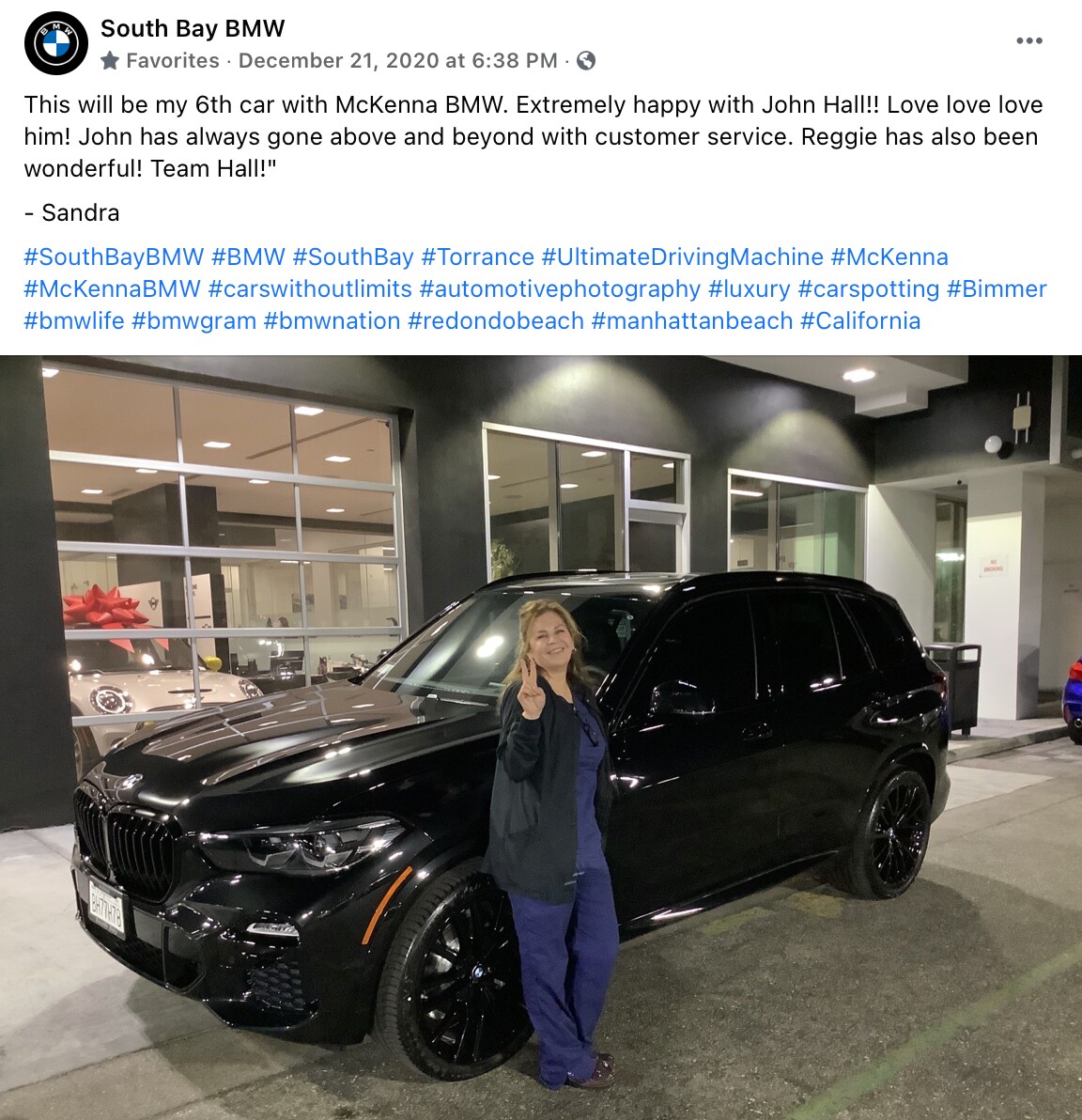 "I was blown away! The General Manager John Hall and Client Advisor Al Asghari were very efficient and helpful with my needs, and were very classy and professional during these COVID times. Never have we dealt with anyone more personable. This entire process has been smooth and effortless. Couldn't be more happy with my new M340i! Thank you South Bay BMW!"
- Kayden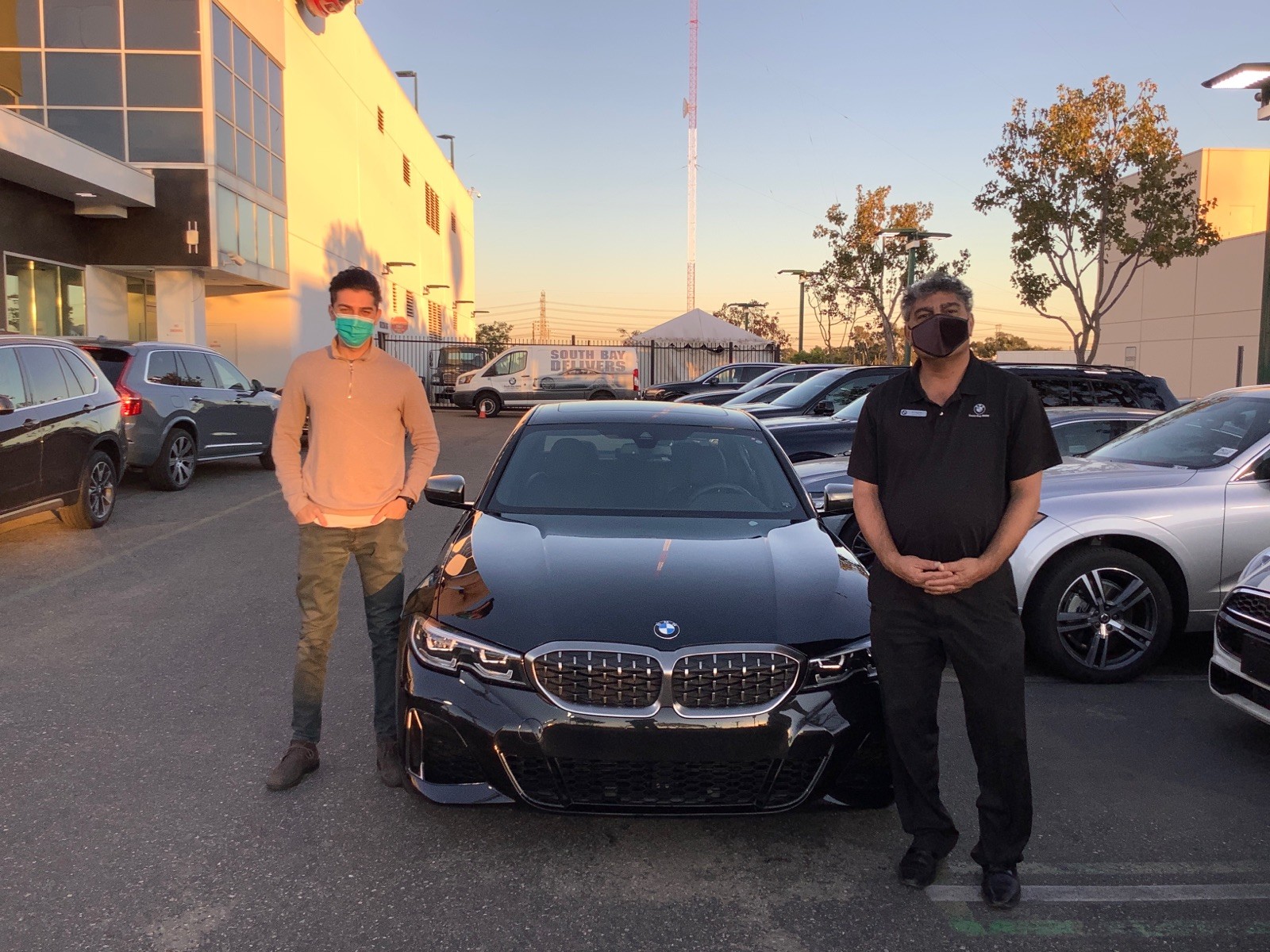 "I have been a repeat customer of Eddie's and always found him to be helpful, efficient and honest. He has made my car leasing experience easy and I will definitely work with him again."
- David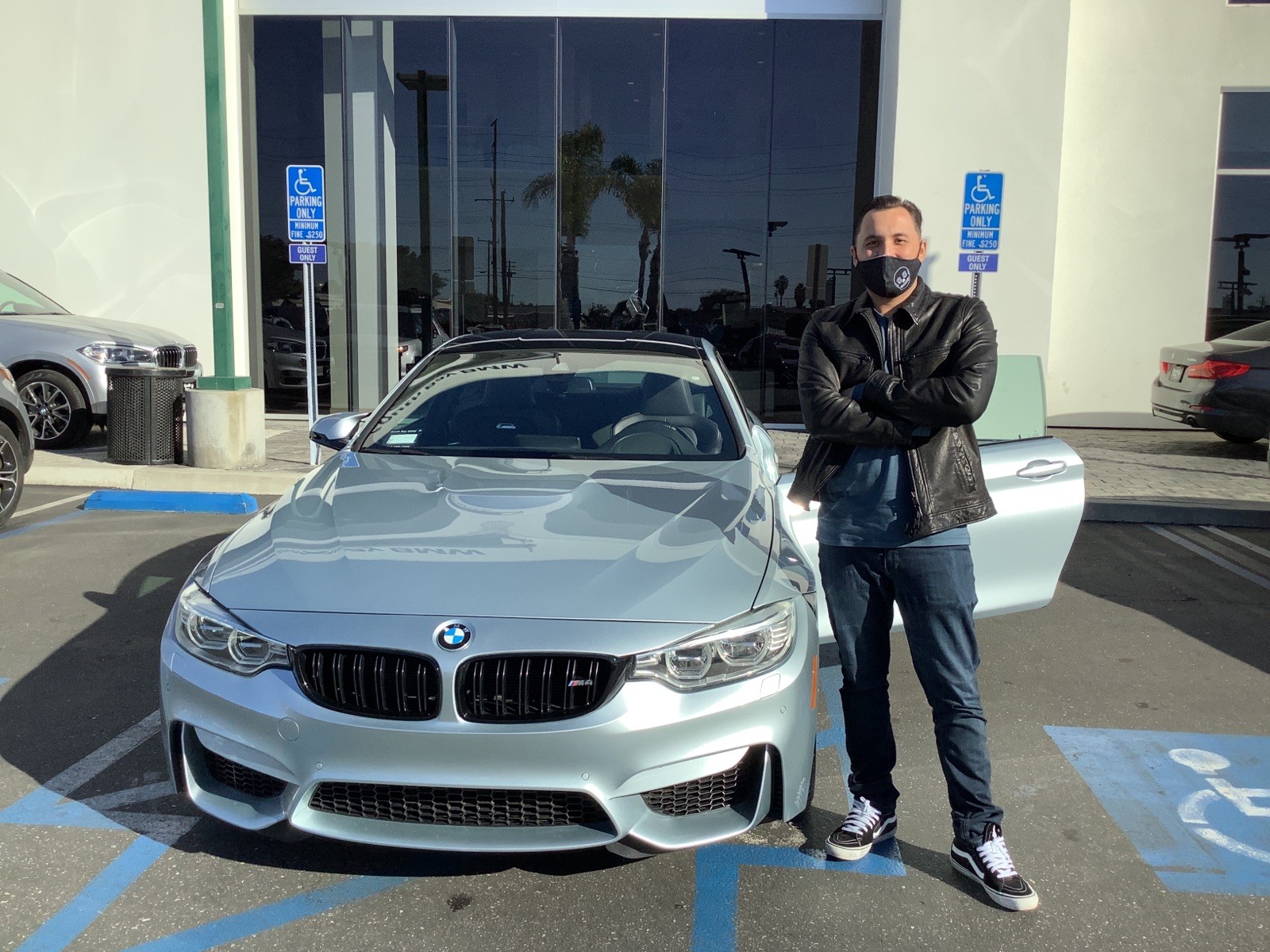 "I had a very positive experience, I felt that I was given clear, straightforward information, without any of the "games" that you might expect while buying a car. Furthermore, I felt that the experience in the dealership was smooth and information was communicated to me clearly. I would recommend this dealership to others."
- Daniel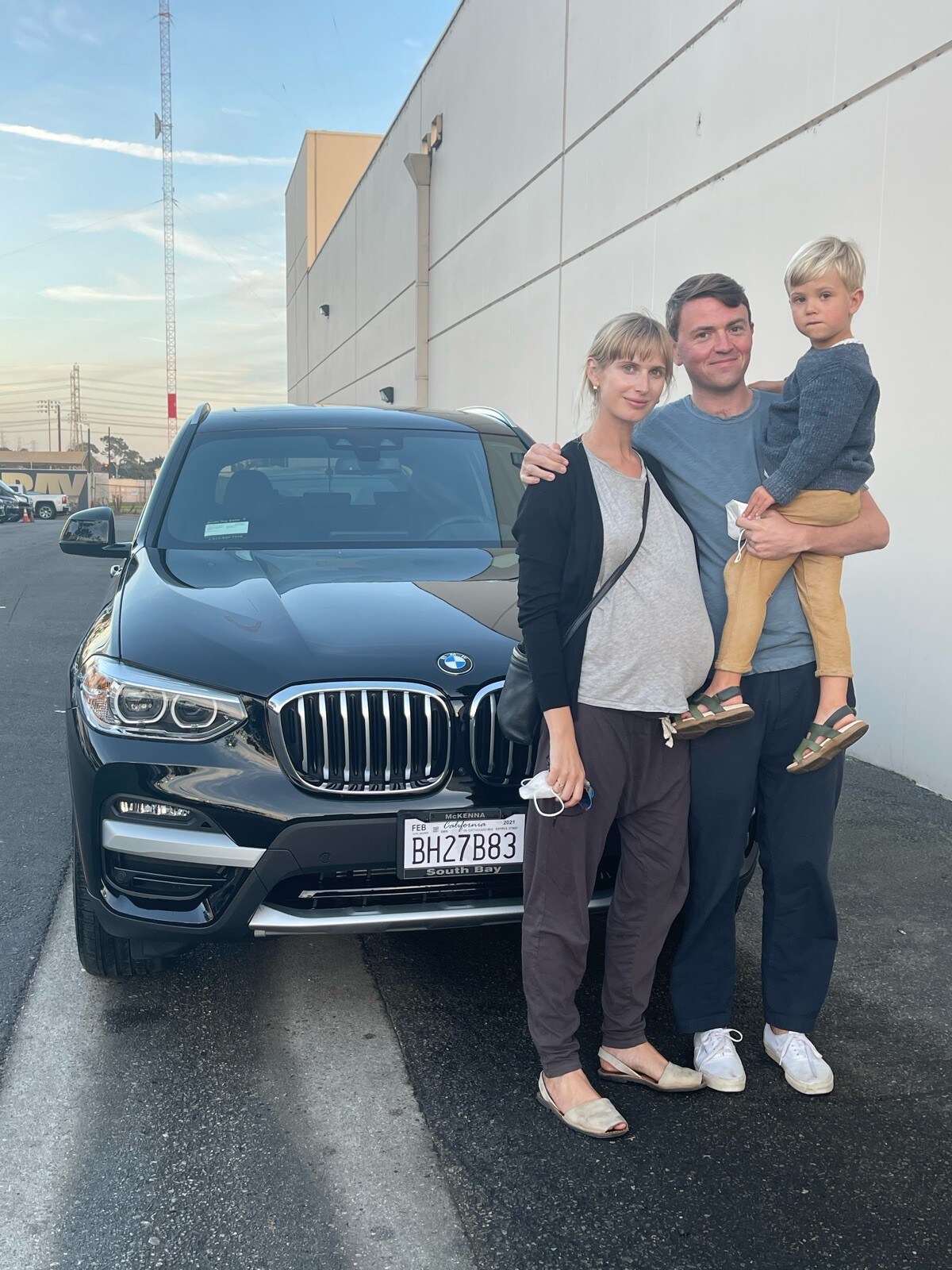 "This is my first time shopping in your dealership but one thing I know for sure is that I'm definitely coming back here for my next BMW or anyone who ask for a referral. Just because the amazing sales person Reggie here. A sales person who really brings joy and fun to your shopping experience."
- Karen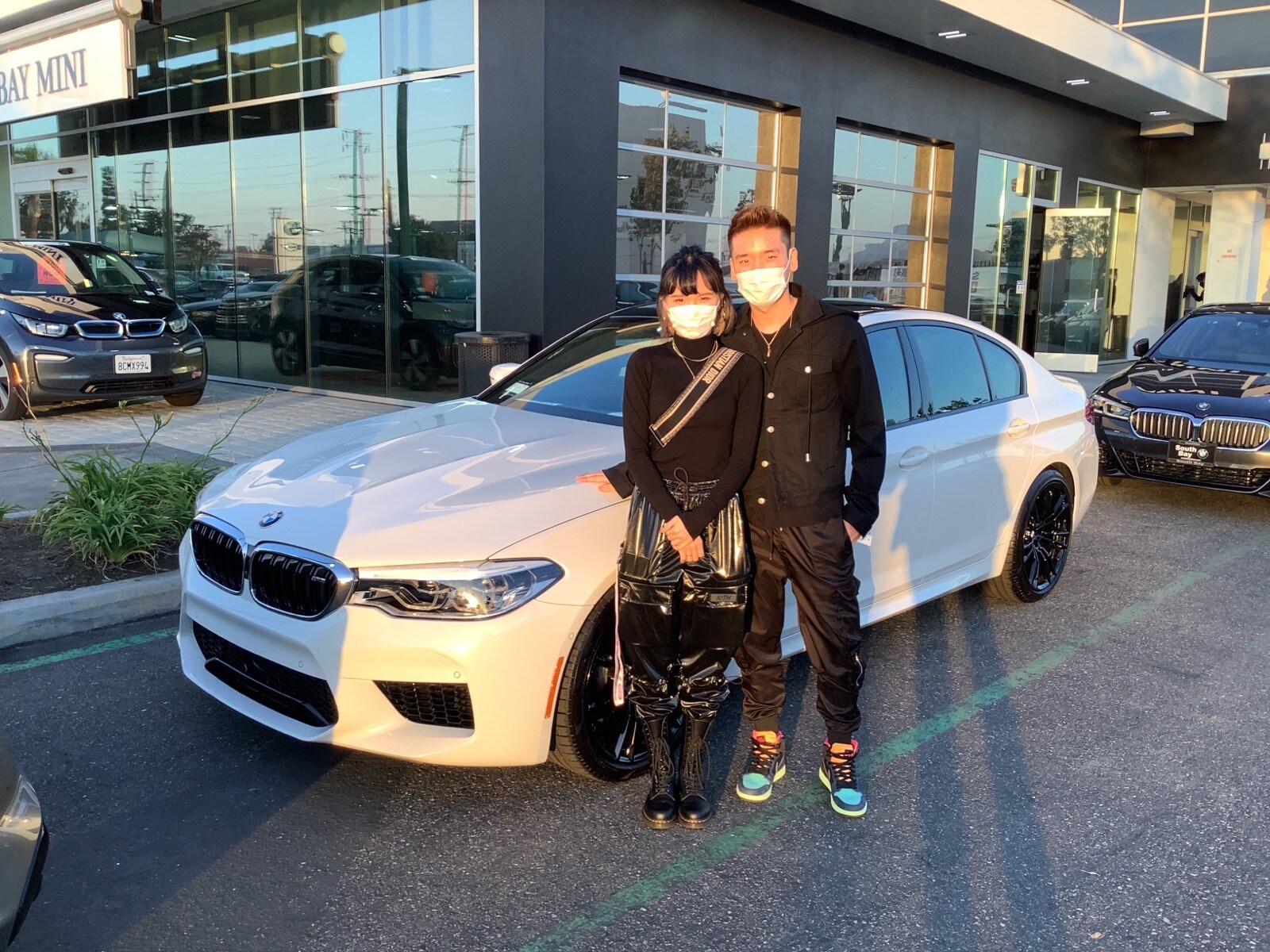 "The experience was great. Very helpful and satisfying. Special thanks to Martin Dino."
- Jose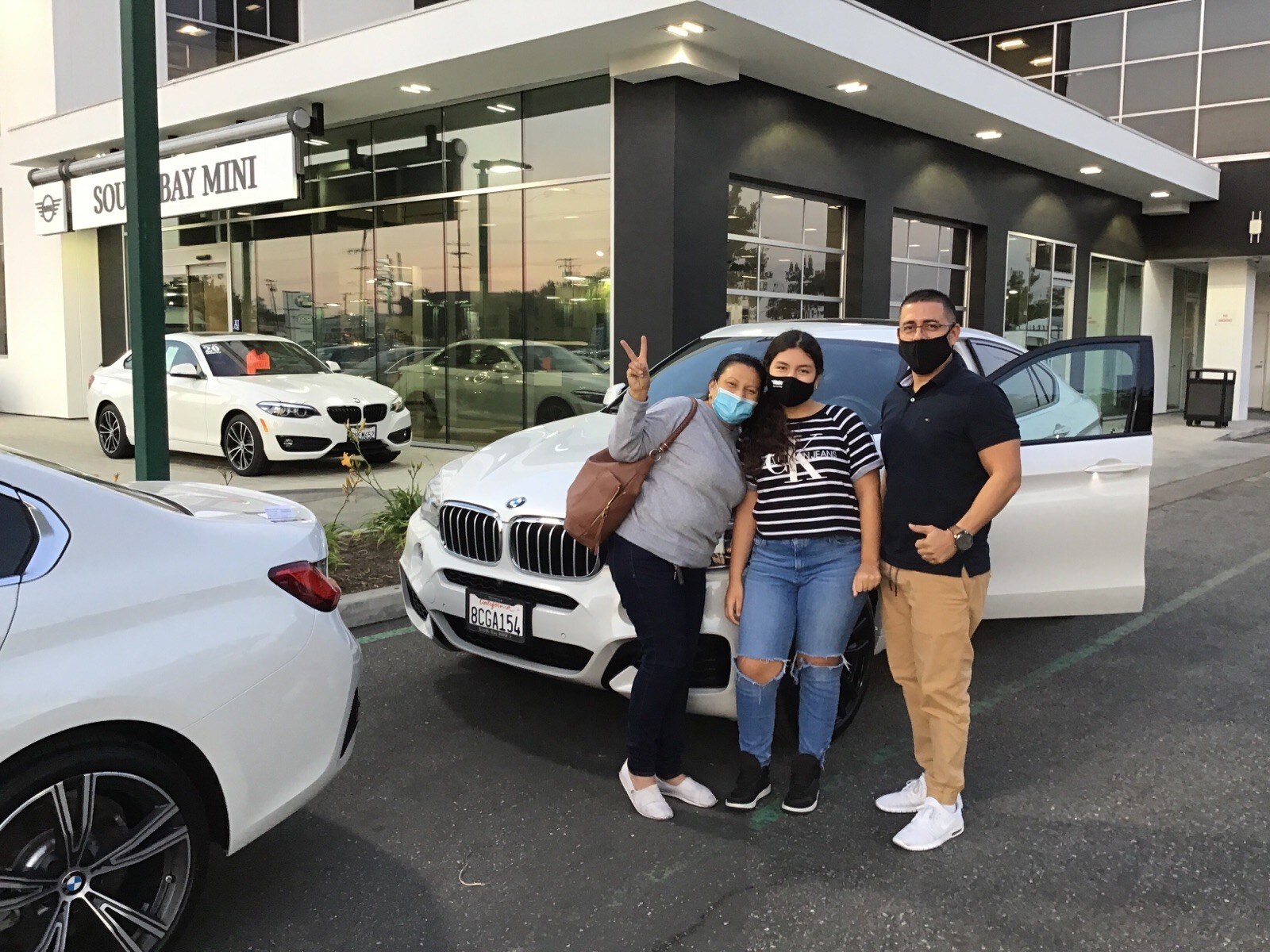 "Reggie Jones was awesome. I came in to "just check the cars out" and ended up leasing because of how easy he made everything. Did not feel pressured at all. He just gave me my options and helped go through all pros and possible cons of each option. Financing was also a breeze. In and out in a few minutes. Would definitely come back."
- Ricardo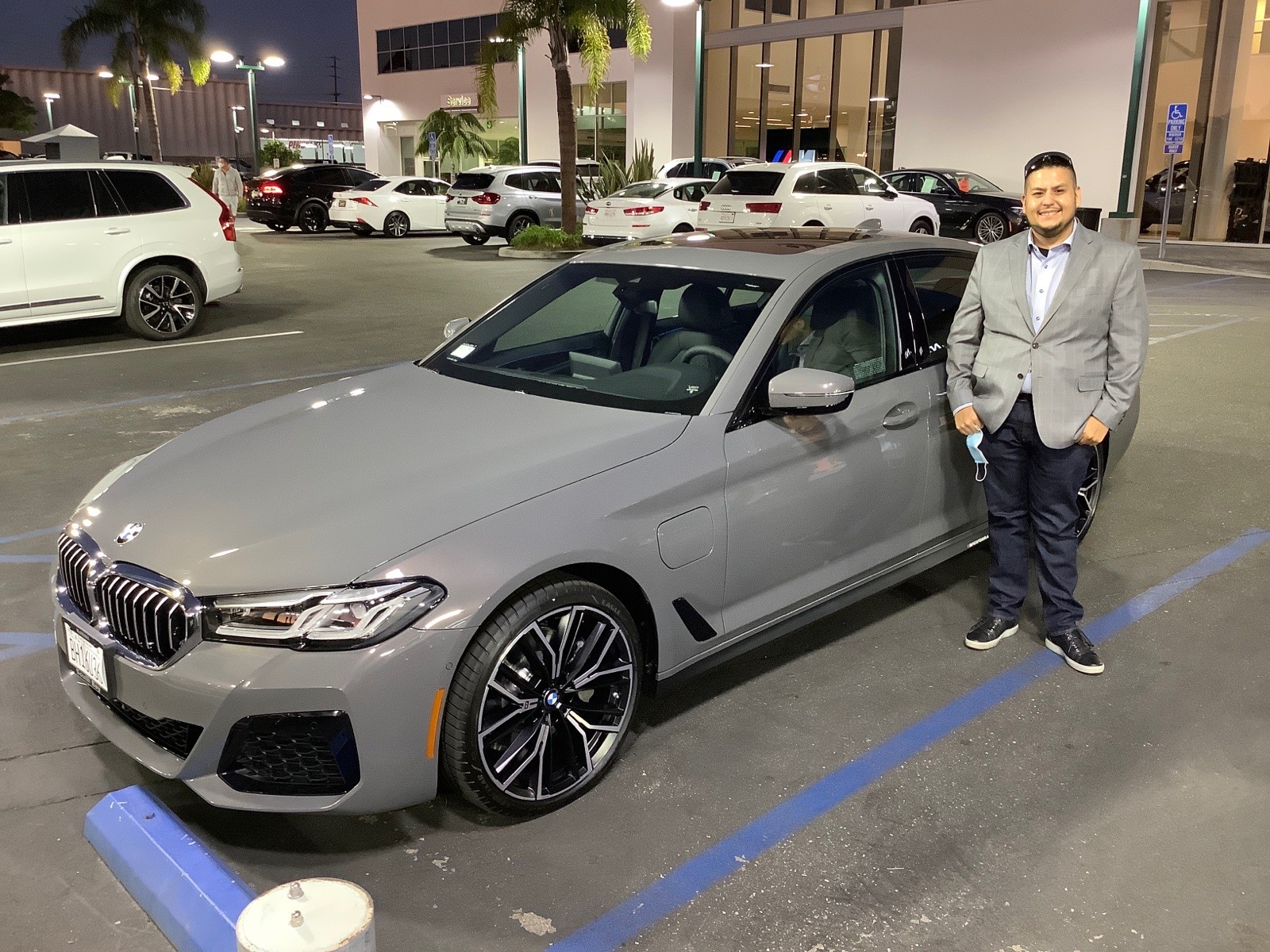 "I could not leave South Bay BMW today without acknowledging Marc Cleary. He is the reason I continue to do business with South Bay BMW. He is the most knowledgeable, gracious, efficient, tenacious and reliable client advisor I have ever worked with. From beginning to end, every step of the way, he is without fail, looking out for my best interest. He is so savvy and experienced that whatever my needs and budget, he will find me multiple options to make it work. He is determined to provide an experience where not only am I satisfied, but that my expectations are exceeded. And all of this is done with a humble, warm, kind and "I'm on your team" attitude. BMW has exceptional cars, that goes without saying. But the people I'm working with is equally important to me. His candor is always appreciated and I am left feeling like I know exactly the situation and the choices available to me with 100% trust. Thank you South Bay BMW for providing the very best in customer experience in the USA. Marc Cleary is a star I hope you will never forget is value. I know I won't."
- Kathlene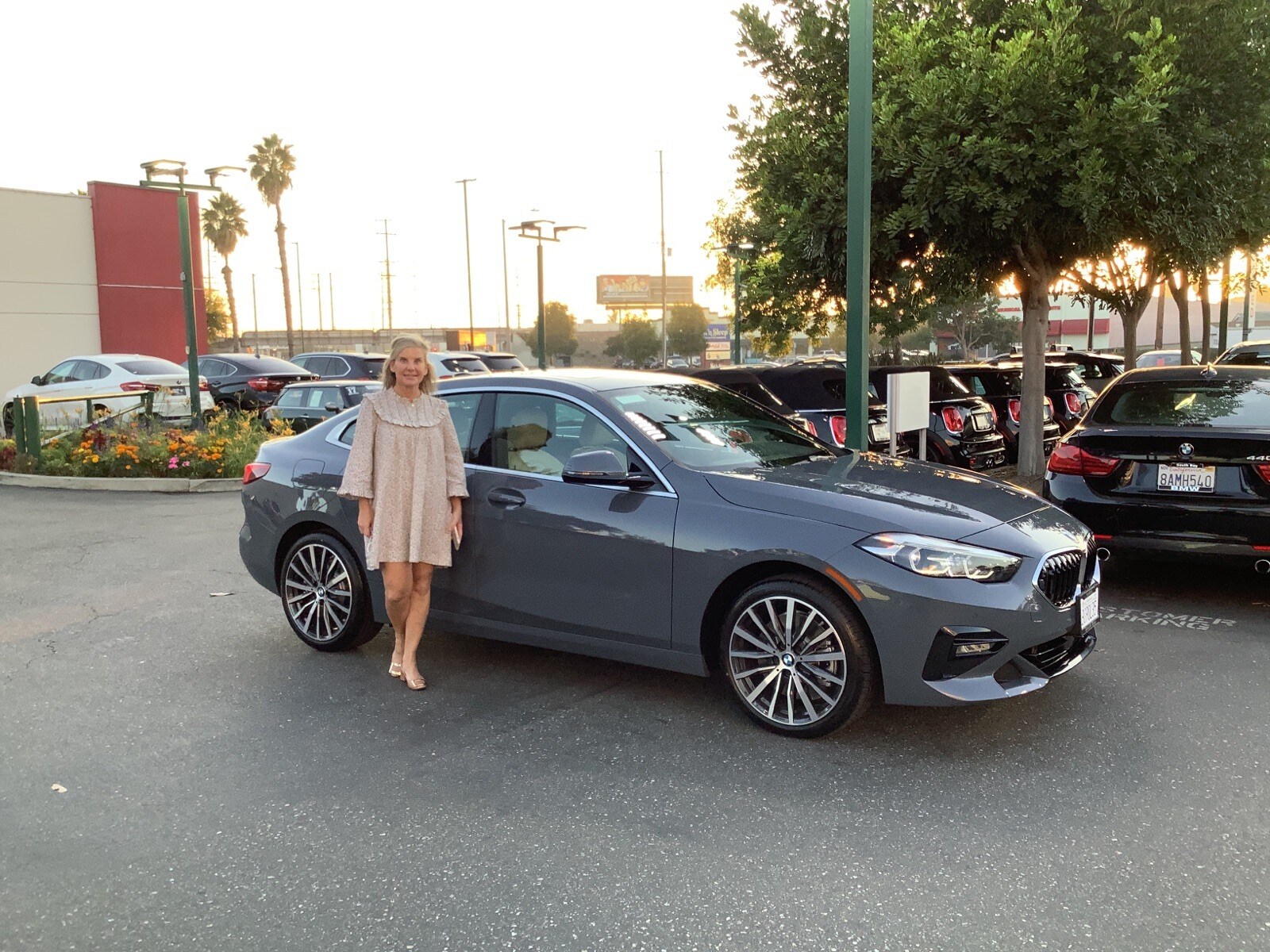 "Good easy experience. Found car fast. Worked with me transparent with price. Going well."
- Kevin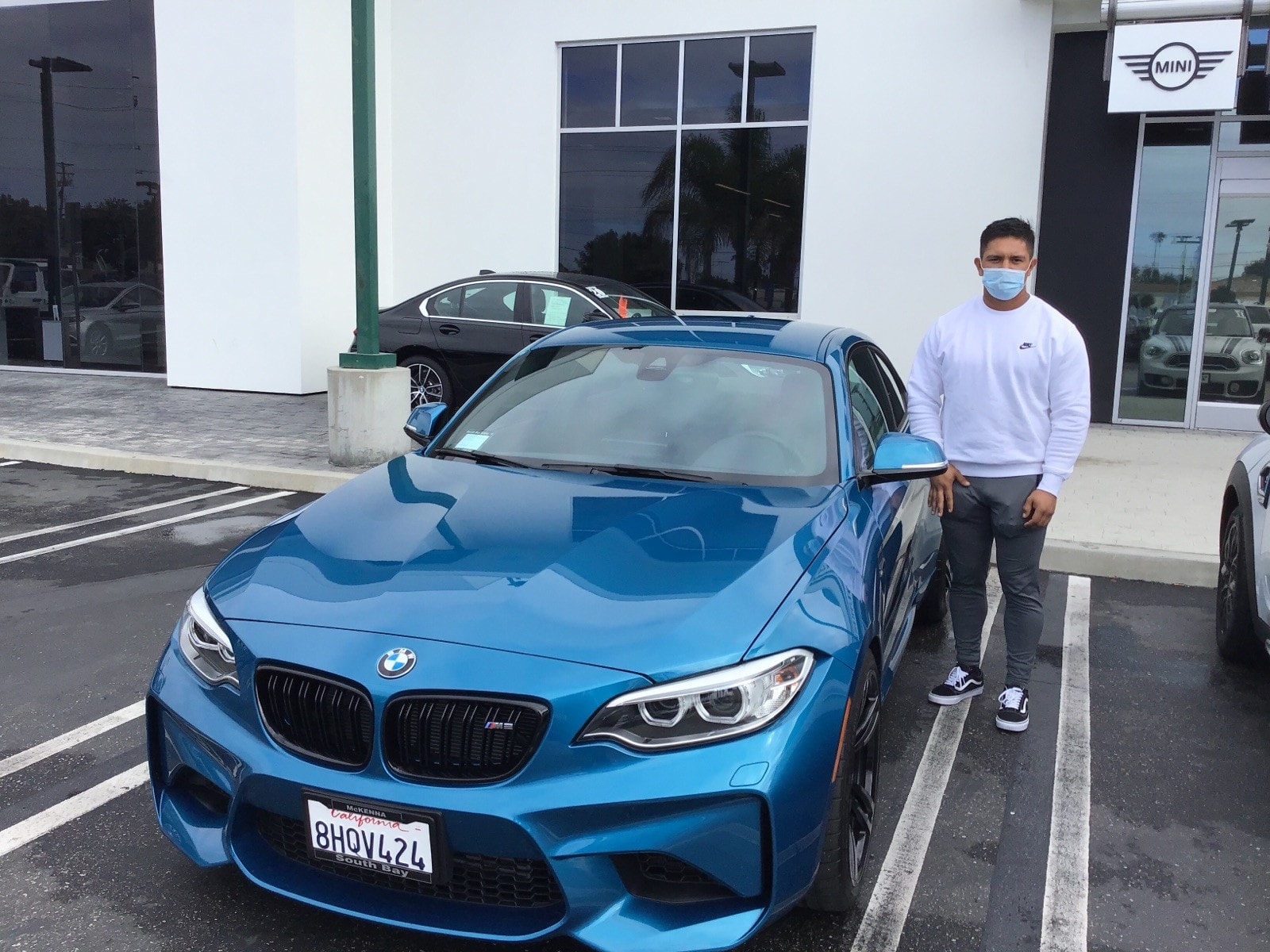 "This is the seventh car I have bought from your dealership. I have always been well taken care of, and have always had a good relationship with somebody here at your dealership. I have been especially happy with my relationship with Marc Cleary. I have referred several friends, and most recently my brother to him. He really is the main reason I am so loyal to your store."
- Anthony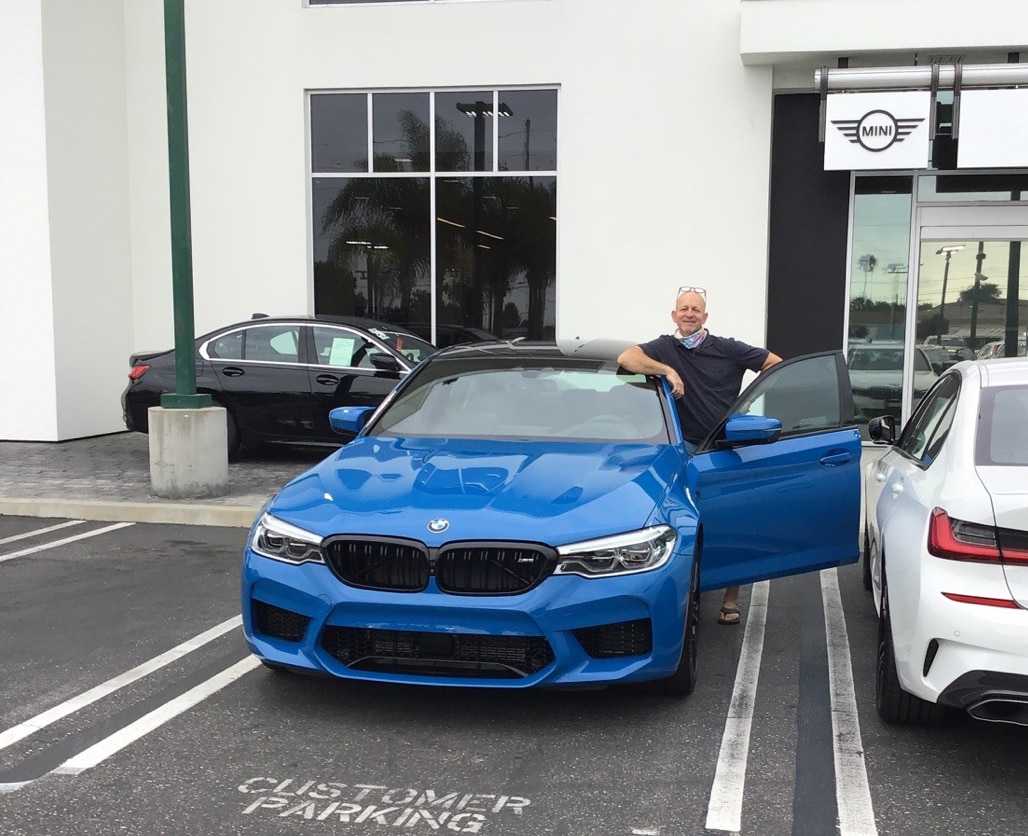 "Eddie has always been extremely helpful. I have bought my last three cars from him. He goes out of his way to help his customers. Would recommend him to all my clients and friends."
- Anita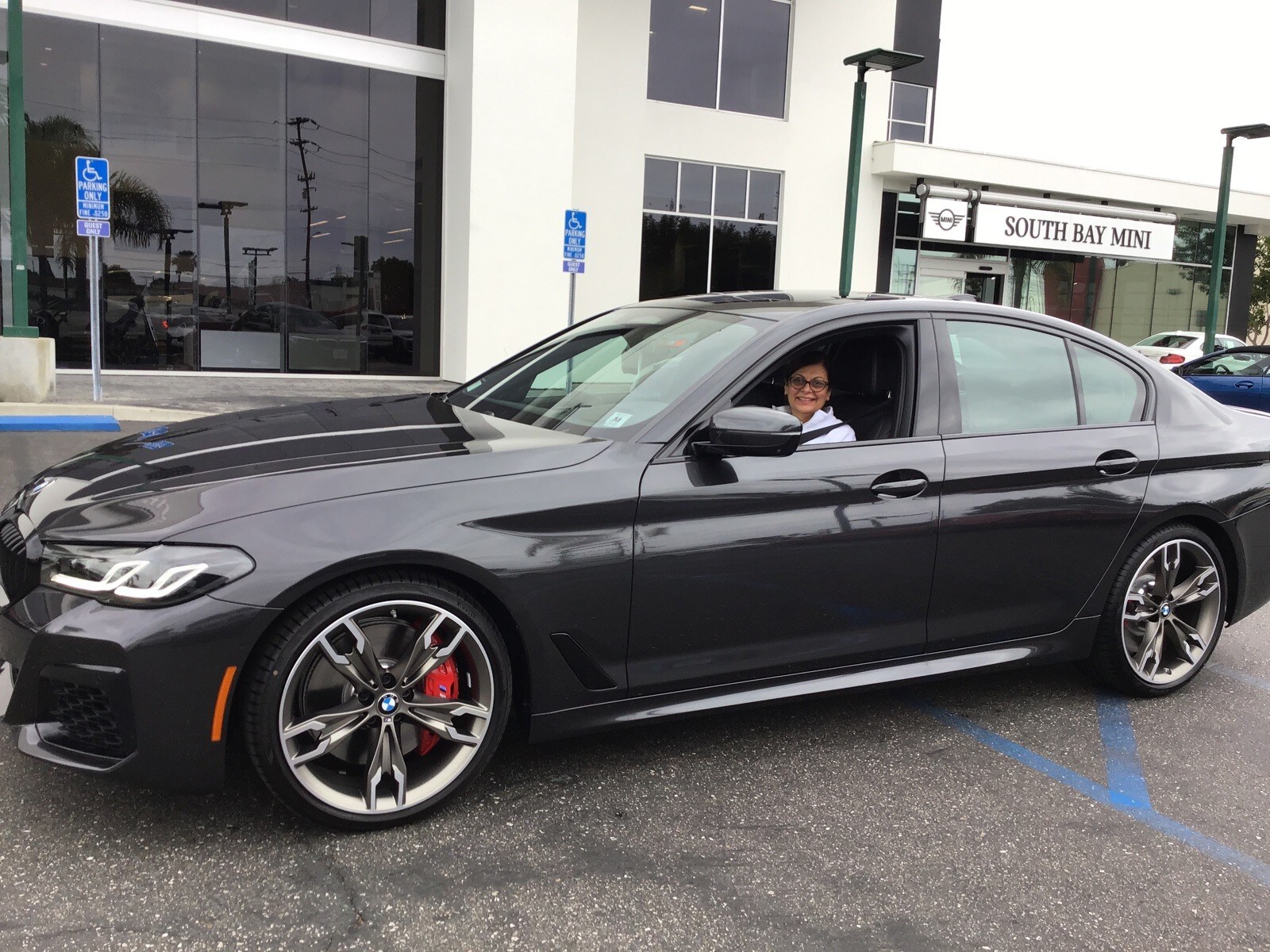 "Martin & Khoi, were excellent in helping me with my 2020 530i. They were both very friendly and informative with all of my questions. Their knowledge and understanding of the BMW brand was second to none. They did not push me but rather helped me into my new car."
- Robert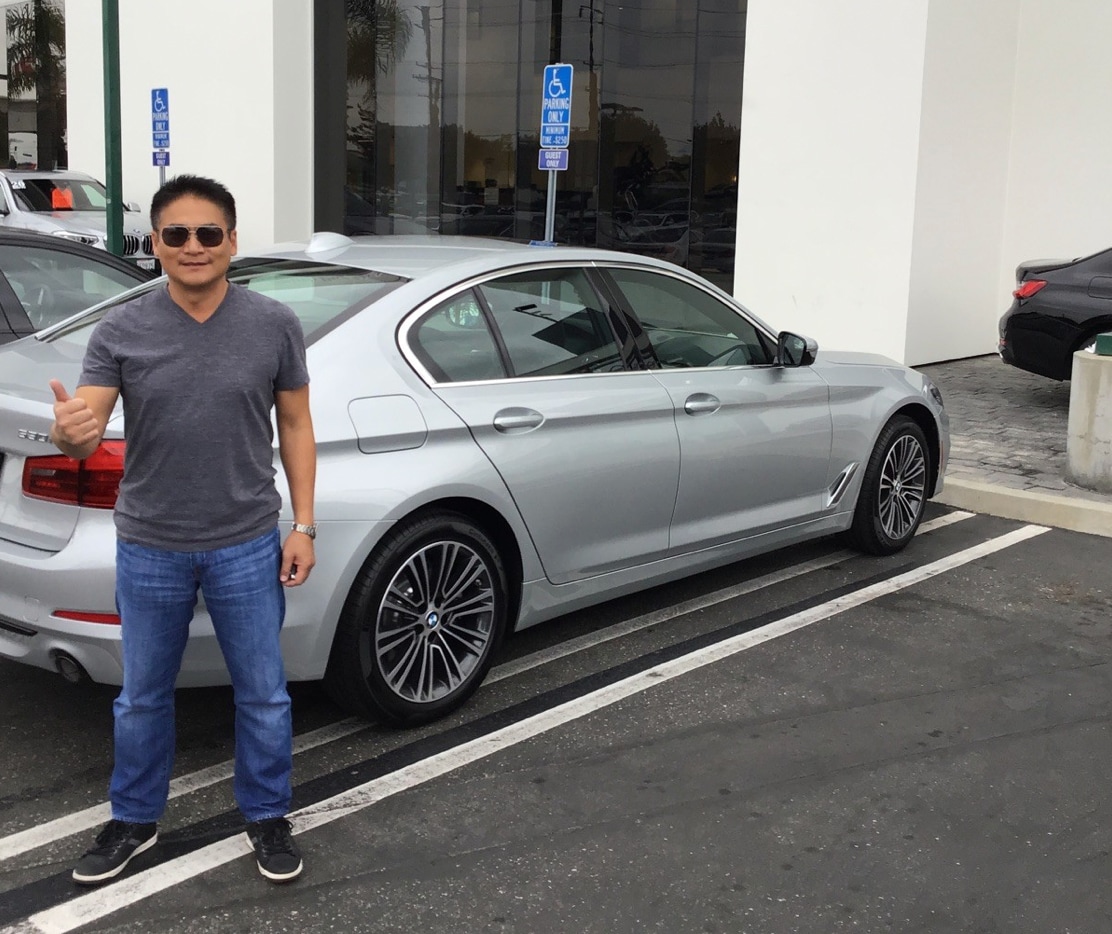 "Martin, my sales rep, was great. Helpful and patient and came up with alternatives during the process. I have been a customer here at South Bay BMW for six years and have considered other cars but I always find myself coming back. Great customer service in sales and service department. If you visit, ask for Martin in sales or Darryl in service. Five stars all the way!"
- Lori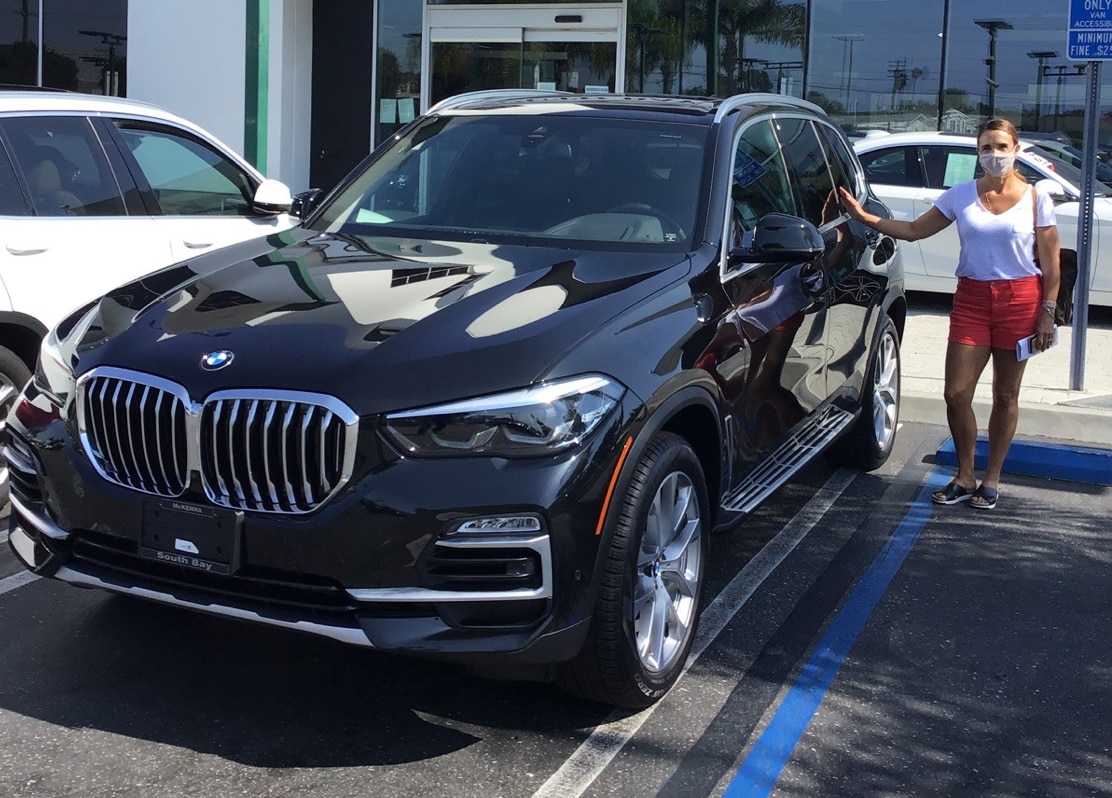 "South Bay BMW is a really good dealer. There are two or three BMW dealerships between us and South Bay, but with his big help, great knowledge, and great customer service Stephen Green not only got us the 2021 530e we wanted, but helped us work out the best deal too. Thanks Khoi Diep the manager, Thanks Mr Stephen Green in Sales, and Thanks South Bay BMW too for everything!"
- Paul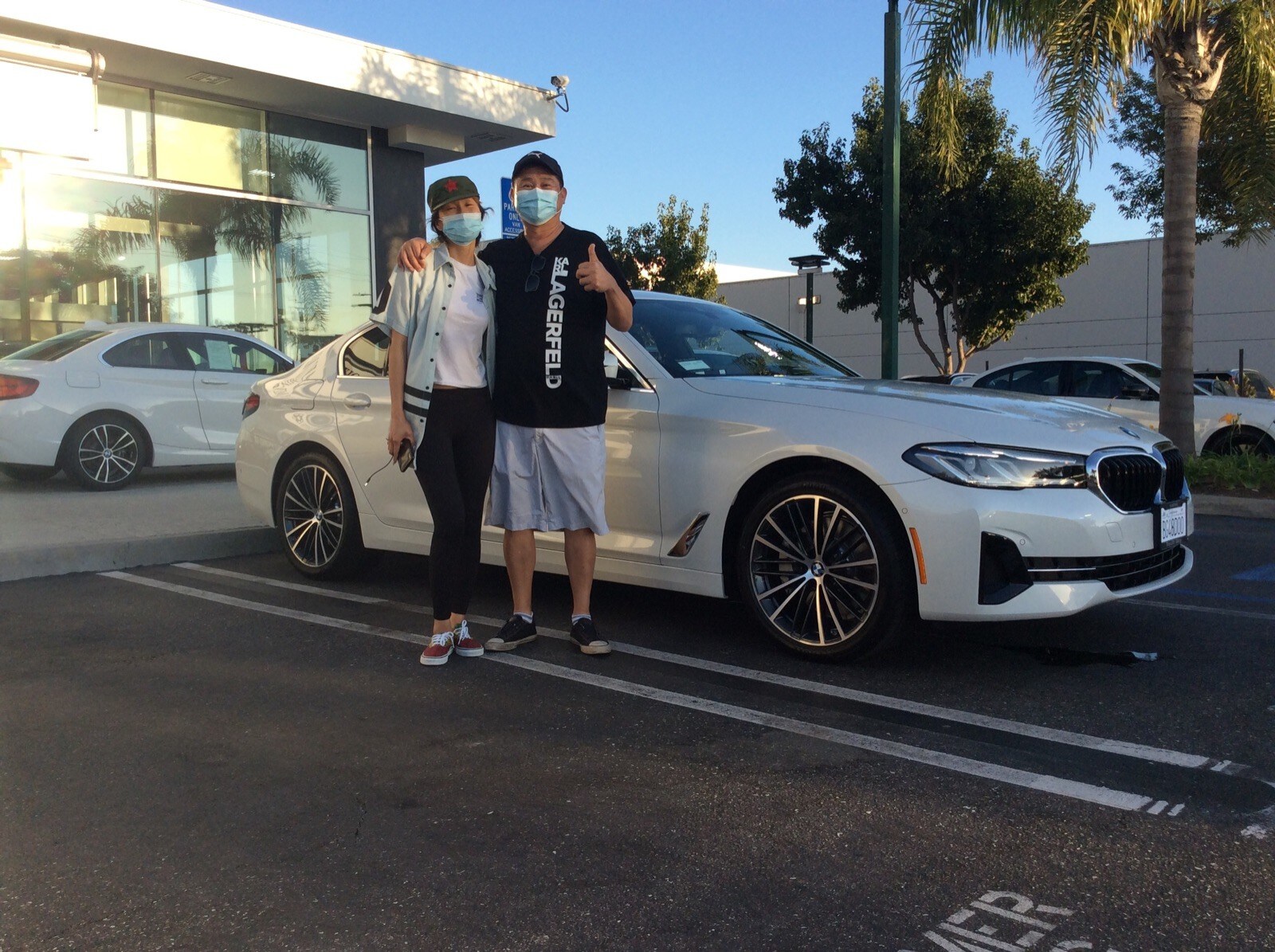 "The sales experience was phenomenal! Purchasing a car was a milestone for our family and we are grateful that Mr. Green was a part of our experience. Thank you for having such an amazing person here! We hope to come back to purchase future vehicles here because of him. Once again, thank you for taking care of us."
- Stephanie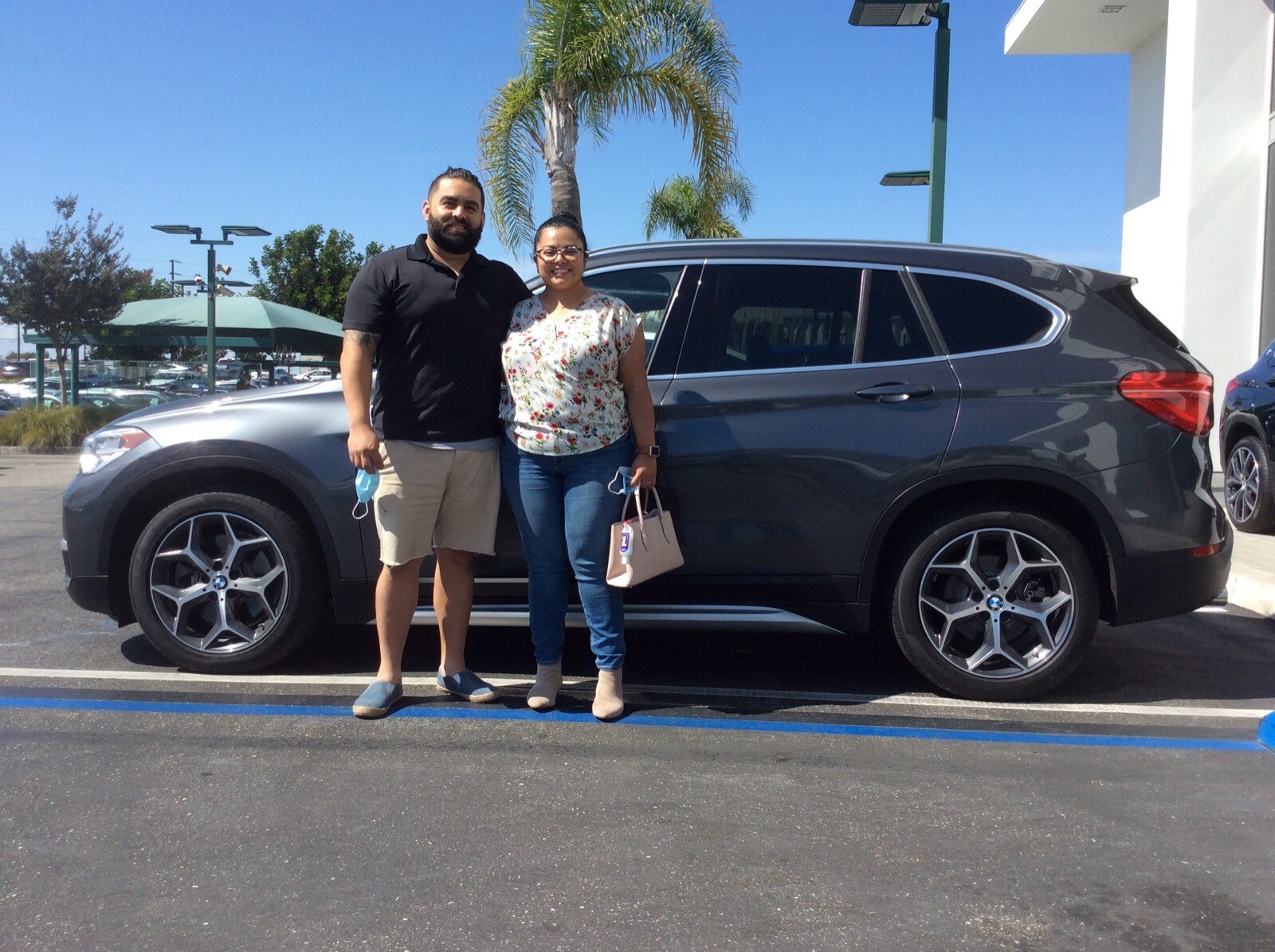 "I have experienced the best customer service ever. Stephen Green was detailed, professional, and assisted me like no other. I was able to drive away with the car I needed. This by far is my favorite BMW dealership!!"
- Wendi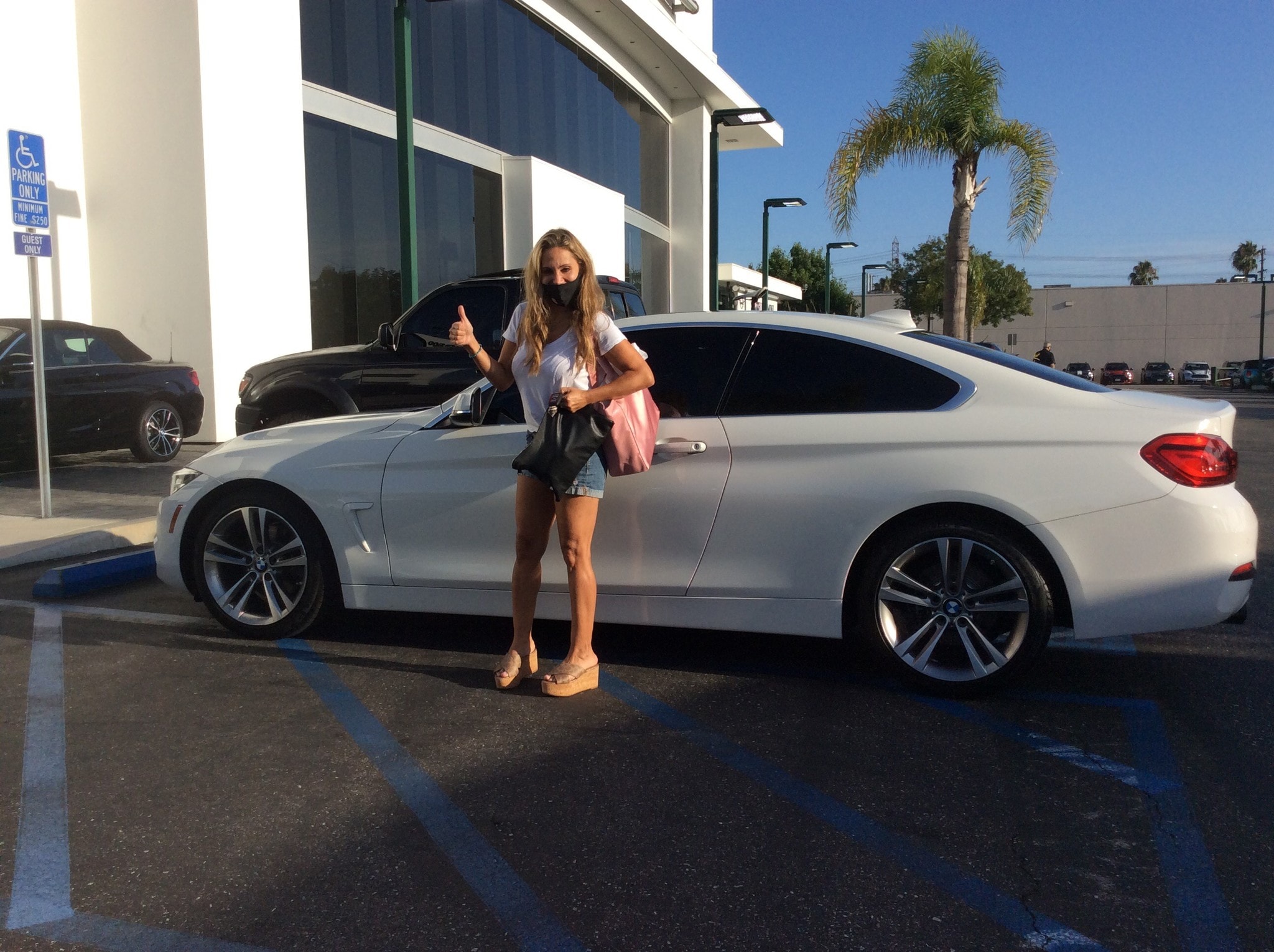 "I love my new BMW!"
- Lisette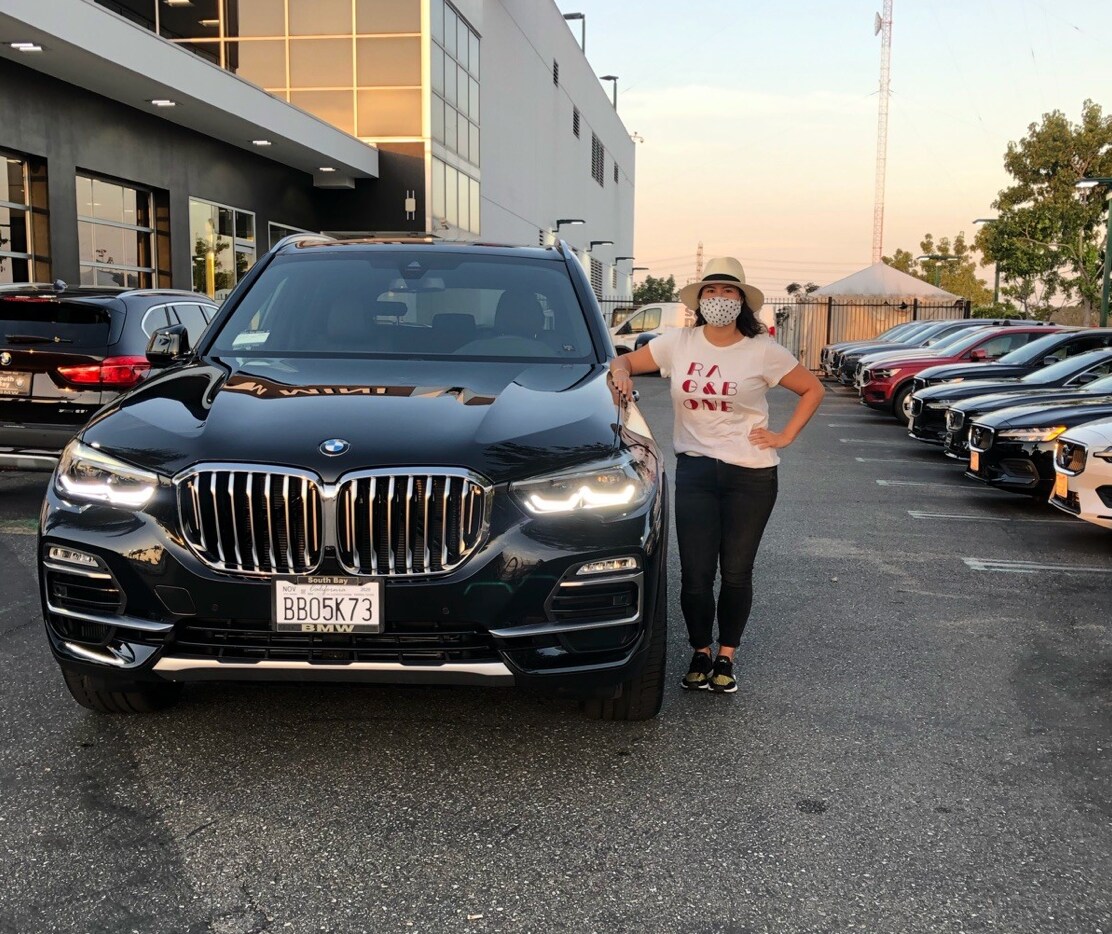 "Absolutely the best experience buying a car! Stephen was very knowledgeable and made the entire process easy. Thanks so much!"
- Christie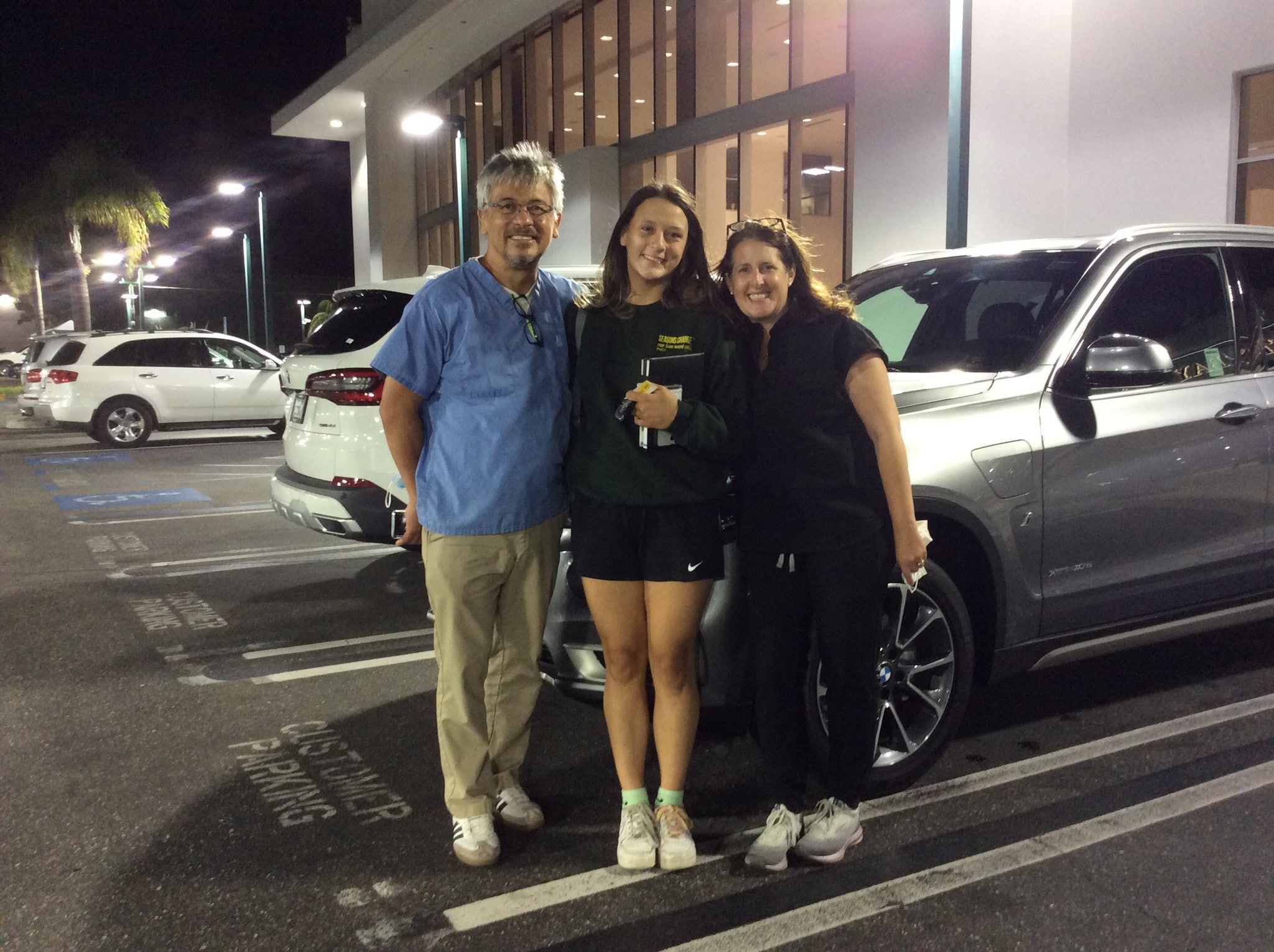 "Stephen was great. Very friendly and answered all my questions. He never made me feel pressured when I was looking at cars. Mike in finance was very clear and explained all the paperwork very well. Mario the technology guy helped me understand all the settings in the car. Everyone was very nice and made my experience great."
- Melissa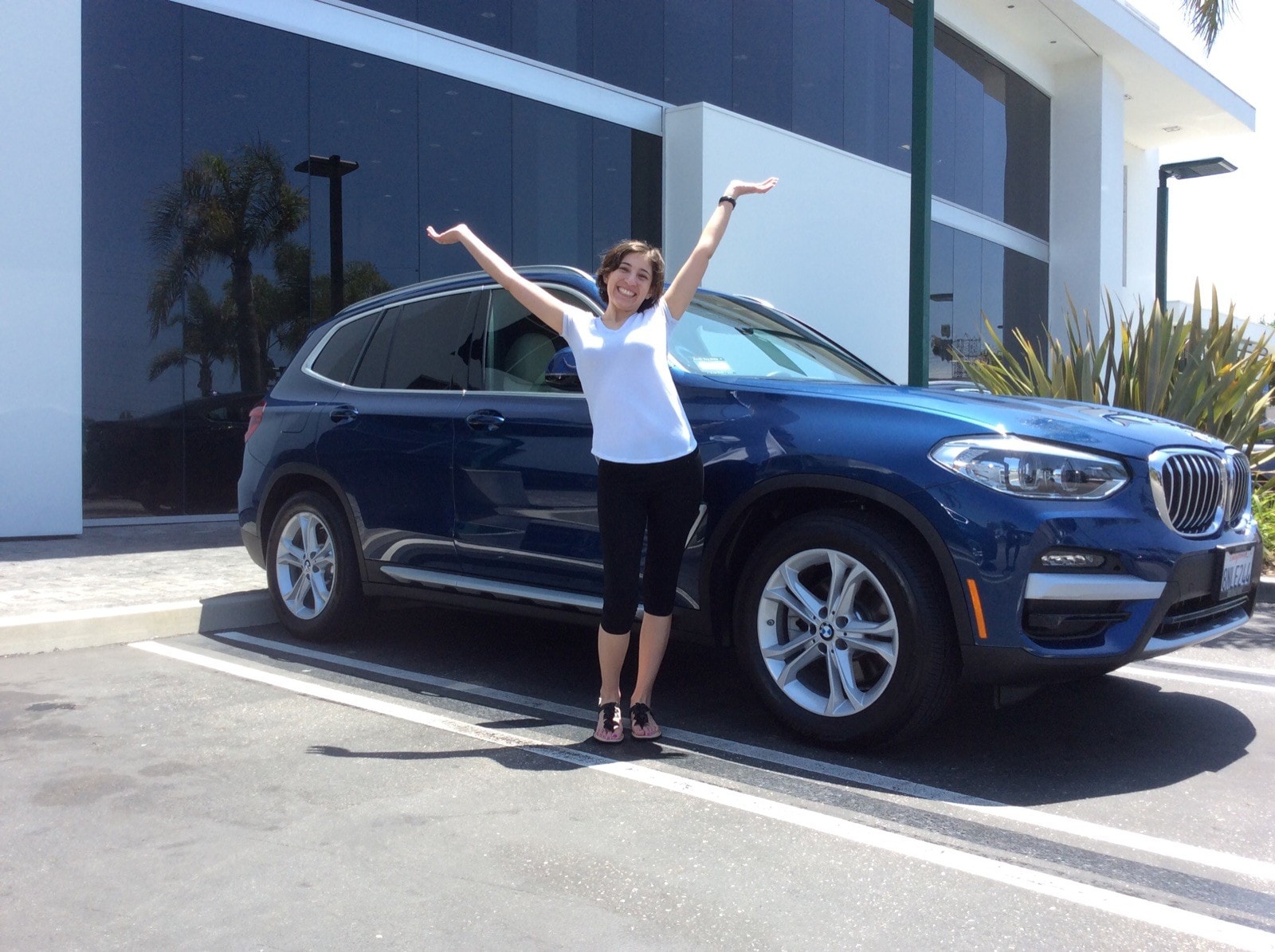 "My experience here at South Bay BMW has been absolutely great. They were very welcoming from the very beginning and were straight forward with me from the get go. They were all very knowledgeable, helpful and great people all around. Stephen was a great salesman and I do feel he helped me get the best deal I could get. I'd recommend this dealership to anyone looking to purchase a BMW!"
- Kevin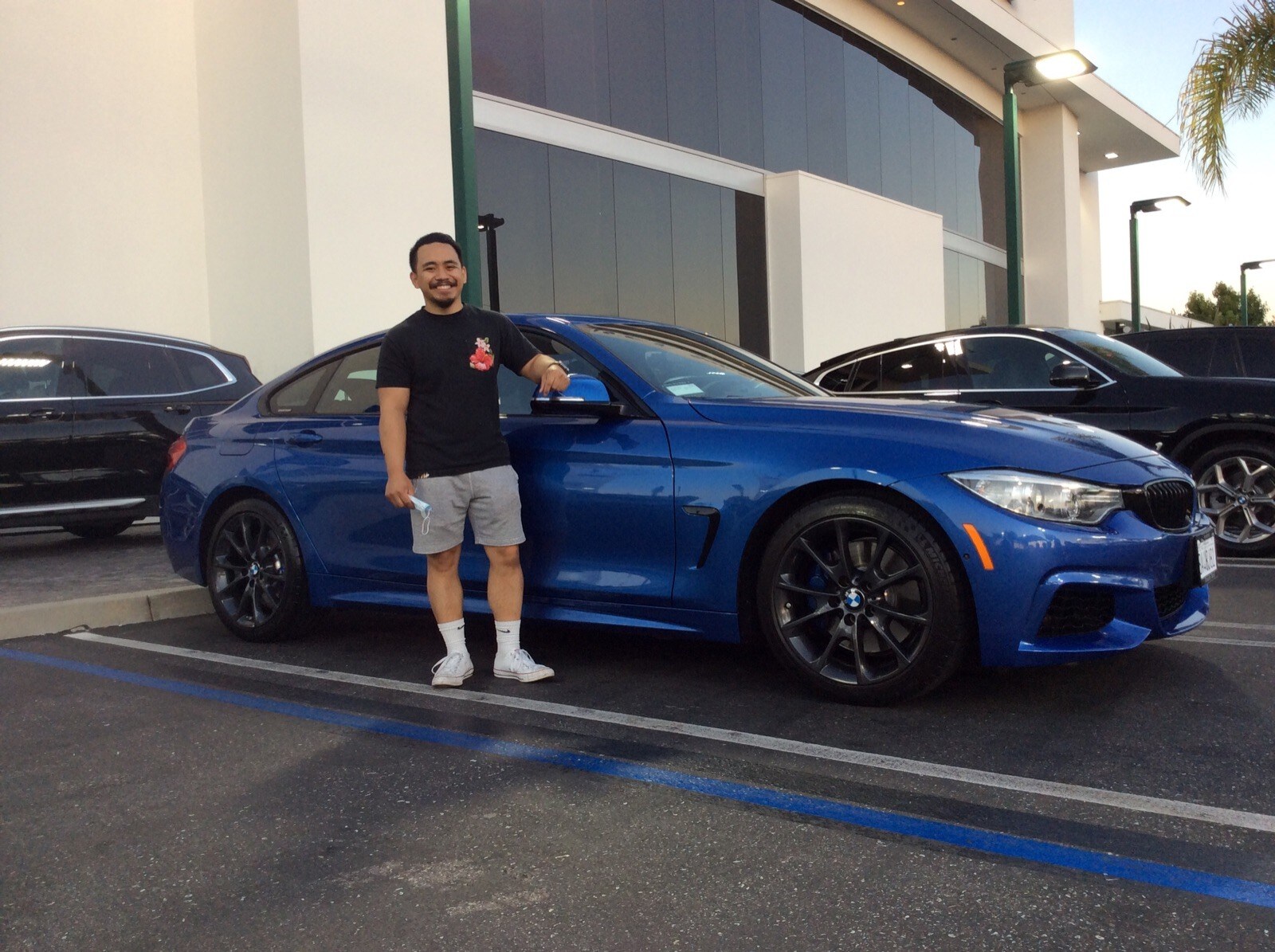 "Absolute joy being here. Thanks to Stephen, Khoi, Fernando, and Brad. Can't recommend this place enough."
- Zach